"Something sinister is going on in this justice system and I want you to share this story," lawyer Kay Bacchus-Baptiste told Asbert News Network mid-Saturday morning.
The former New Democratic Party senator, and current West St. George constituency caretaker, expressed her concern over what she described as a concerted effort to keep her in a communication blackhole. Bacchus-Baptiste said all her efforts of late to reach the local police hierarchy are being stymied.
"Even the Commissioner of Police [Colin John] and now the head of CID (Criminal Investigations Department) [Superintendent] Clauston Francis, they are refusing to take my calls.
"Knowing that I represent clients and I have a reason to reach out to them, they have been, I can say, refusing to take my calls.
"I'll give you my experience with Colin John: concerning the search of the NDP activists' homes on Saturday, I called Colin John several times; he would cut the phone off when he sees the call is coming from me.
"So, I used another phone to call him and he answered right away. I spoke with him and he said he's not going to take any calls from me, it's his personal phone etc., etc. Good.
"Clauston Francis – I have been calling him as head of CID from since about 8:30 or so yesterday morning. First of all, I was calling him on a matter with two other clients, unrelated. Then I started calling him in relation to the Kenson King and Adriana King matter.
"I called him about no less than 20 times during the course of the day. I left messages. None of my calls have been returned and let me say: before this, before a week ago; Glaston Francis would always return my calls. We'd have cordial conversations – no problems.
"But yesterday when I noticed he has not answered any of my calls I said you 'let me call him direct rather than calling him on WhatsApp.'
"Every single time I call him the phone said he is on a call. It says: 'I'm sorry, the person is engaged on another call'. This happened like 7 times in a row. I thought: 'no, this is strange.'
"I took another phone and I called him again. It said the same thing – sorry I can't get him; the person is engaged on a call.
"Within a second after, using another phone I dialed the same number – he answered immediately, so I spoke with him.
"I said, 'you have been avoiding me'. I didn't even get a chance to tell him what they have done with my phone –
"This is what I am telling you that's going on in this country. Anytime my phone calls him, it says he is engaged on another call. How they set that up, I don't know but people need to know what's going on.
"So, I said to him: 'you have been avoiding me' but he didn't let me finish. He turned around and accused me of telling the woman to change her story. I'm talking about the lady who they charged for wounding the Prime Minister [Anna-Mae Lewis].
"He accused me of telling her – he said that I'm going around saying that he forced the lady to give the statement and to confess. I said: 'I never called your name but those are my instructions and I will repeat them. The police forced her to give a statement.'
"Then he said to me that I told the lady to change her statement. In other words, he's accusing me of telling her to say she is not guilty but she's still guilty. So, I said to him: 'you want to tell me that in public, let me sue you? You are telling me as a lawyer that I told the lady to change her story – in other words what she is saying is a lie. She did in fact do the damage but I am telling her to change her story?'
"Whereupon he said: 'I'm not talking to you anymore' and he hung up the phone. I am telling you this because I want this story out there.
"This is what is going on in St. Vincent. I didn't even know that he was the one who coerced her. She said the police. And she told me all the policemen who were there, including him.
"She didn't say him specifically but when he said that I called his name, I said: 'well thanks for telling me that you are the one and I will repeat it because my instructions are that you coerced her, she's intent. It was not her.
"Well he couldn't deal with that any more he hung up the phone on me," the longtime barrister shared.
When asked whether she would venture an opinion on why the Royal SVG Police Force seniors would treat her as she alleged, Bacchus-Baptiste noted: "it is clear. I am doing my job, defending my clients and the police don't like me exposing them.
"It's very, very clear. I've been trying to reach them in relation to Kenson and Adriana (two political activists who were arrested but not charged on Friday August 13). So they're blocking so that I can't reach them.
"But what Clauston said is that he is mad that I put forward my client's case – Ms. Lewis – by saying that they coereced he. He is so mad that he don't want to talk to me."
Asbert News Network solicited a response from both Superintendent Francis and CoP John.
Francis cordially declined to comment saying: "I understand you're a journalist and you have your work to do [but] the matter in question is before the Court, it's sub judice and I do not wish to comment on that matter, ok?
"And that's all that I have to say at the moment."
Commissioner John shared with us screenshots of "the communications between Mrs. Bacchus-Baptiste and I."
Based on what we saw, on Friday August 6 Bacchus-Baptiste allegedly wrote:
"good morning my Commissioner I k [sic] is you said who am I for you to walk off on but as on officer of the Court I'm calling you. Will you please take my calls?"
To which Commissioner John's succinct response was: "please make ALL communication to me though the official channels. Thank you."
"This is now a legitimate way of communication especially since COVID. Stop being so venomous towards me Colin. It's not warranted," the supposed Bacchus-Baptiste response read at 6:19 pm.
Then again on Saturday 7 August at about 4:25 pm – "Colin you are a public servant. You cannot run away from me. Thanks. You are being immature sir."
Several minutes later John shot back: "this is my PERSONAL phone I choose who to communicate on it with.
"As I advised you yesterday ALL communication with me should be done through the official channel. Thanks you and have a good afternoon."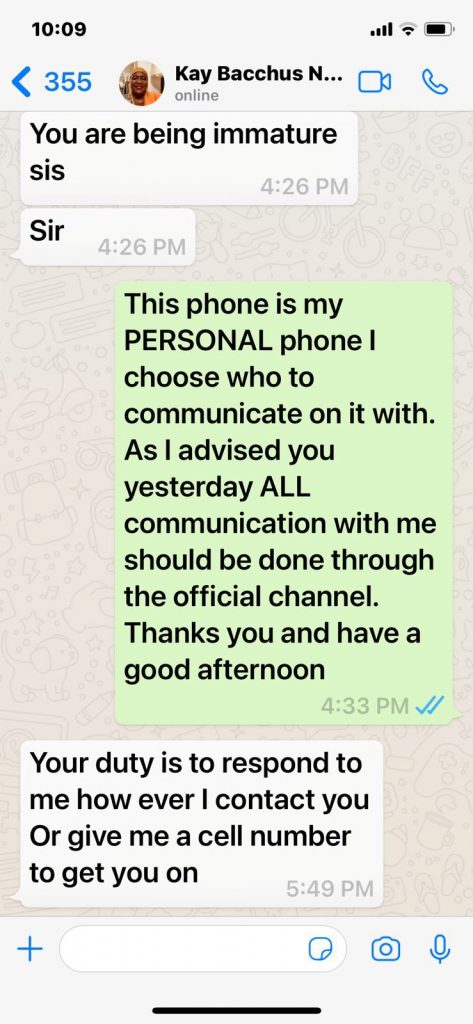 The last capture in the screenshot chain was of a 5:49 p.m. response – "your duty is to respond how ever I contact you or give me a cell number to get you on."
Bacchus-Baptiste phoned in a further development as this article was being written.
She was invited, by phone call, to meet with both Commissioner John and Superintendent Francis sometime after ANN reached out to both parties.

@jpschwmon #situationupdates