Virgin Atlantic today completed its inaugural flight from London Heathrow to St Vincent and the Grenadines, the island's only direct service to and from Europe.
The twice-weekly service flies via Barbados and departs every Wednesday and Sunday, operating on the airline's A330-300 aircraft boasting 31 Upper Class, 48 Premium and 185 Economy Delight, Classic and Light seats.
Speaking at a ceremony to welcome the inaugural flight of Virgin Atlantic, Minister of Tourism Carlos James says it is an exciting opportunity for St Vincent and the Grenadines noting the partnership with Virgin Atlantic is a strategic one as it puts St Vincent and the Grenadines right at the doorstep of the European market.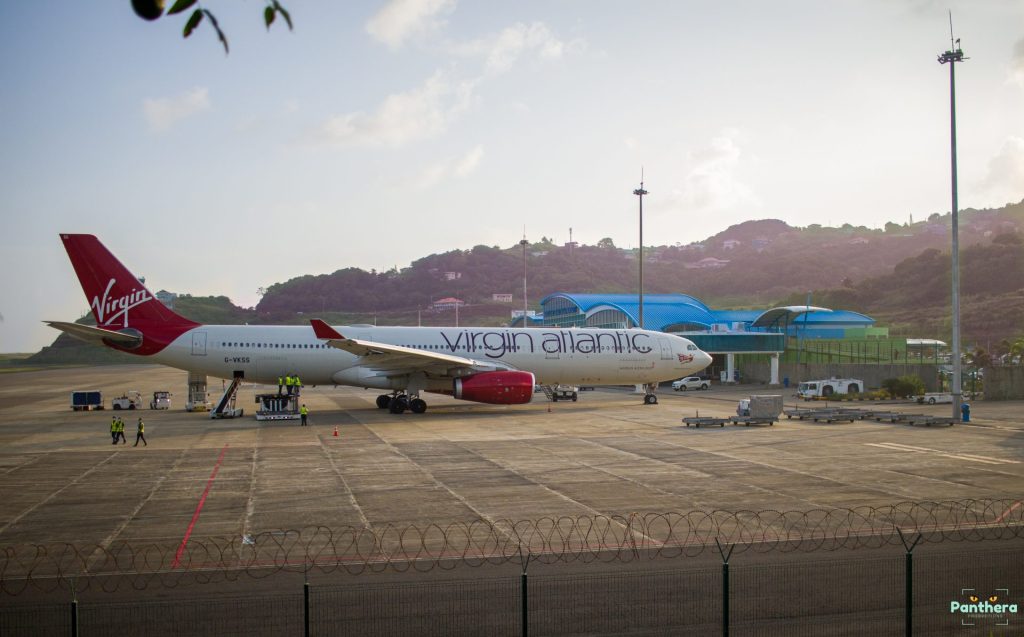 Both American Airlines and Virgin Atlantic were taxiing at the Argyle International Airport as the minister spoke.
James says next week will be historic as well as SVG will add to its fleet of international carriers the return of the mid-week flight Caribbean Airlines to the destination.
He says St Vincent and the Grenadines continues to show the world it is resilient and welcomes visitors to the destination and residents back home.
Prime Minister Dr Ralph Gonsalves speaking at the ceremony says there is happiness across SVG and he is personally overjoyed.
He says there is something called the pandemic and everyone working at Argyle International Airport needs to get vaccinated as he notes the traveller who is coming in, by and large, is vaccinated.
Hannah Swift, Country Manager, Caribbean at Virgin Atlantic commented: "We couldn't be more excited to launch the first flight from St Vincent and the Grenadines to Europe with our new twice-weekly service.
We're currently flying to the UK from Barbados, Jamaica, Antigua and Grenada and expect to restart Tobago and Havana, Cuba in the upcoming months. We also look forward to launching new services from the Bahamas as well as St Lucia, as we continue to expand our services from the Caribbean to the UK.
We are incredibly excited to welcome customers on board as they fly off on holiday or travel to visit loved ones."
Glen Beache, Chief Executive Officer commented: "We are thrilled that Virgin Atlantic is the first European airline to be landing in St Vincent and the Grenadines. We have had a long relationship with Virgin Atlantic, one of the World's leading airlines, and are looking forward to further solidifying this relationship with these twice-weekly flights."
Steve Moore, Resident British Commissioner said: "I'm absolutely delighted that this has happened. A direct flight link between SVG and the UK can only help to make bilateral ties even stronger. It will also make life that little bit easier for British tourists, the SVG tourism industry, the Vincentian diaspora in the UK, the many Vincentians employed in the UK as nurses or with the British Armed Forces, and for me too! It's great to finally be connected."
Virgin Atlantic says flights to St Vincent are now on sale.   
Source:Loop Caribbean