BY
DR. THE HON. RALPH E. GONSALVES
PRIME MINISTER OF ST. VINCENT AND THE GRENADINES
PERILOUS AND UNCERTAIN TIMES
Our nation's 42nd anniversary of independence finds us at perilous, uncertain cross-roads at which our lives, living, and production have been convulsed and disrupted by the novel coronavirus (COVID-19) since March 2020, and the volcanic eruptions of April 2021. Our nation as a whole has taken a monumental beating from the twin calamities of the pandemic and the cataclysmic force of nature. Every single family in our blessed nation has suffered, though not in equal measure, from the slings and arrows of misfortune, not of our own making. The poor and sections of the working people, have endured real hardship despite our efforts at amelioration; but things could have been worse. We thank God for His mercies and blessings even in our quite difficult situation. Still, the many-sided challenges before us which touch and concern Health, the Economic, the Social (including Education), and Security (HESS) will require herculean correctives.
The disruption caused to the education of our children and young persons is quite painful, at the individual levels, and portends a festering danger for our society over the next five-to-ten years if it is not handled creatively and effectively by the principals, the teachers, the parents, the State, and the students themselves. This matter is being accorded especial emphasis by the government.
COVID-19
Since early August 2021 to October 19, 2021 (the time of writing this message), the number of persons infected by COVID-19 have galloped geometrically; deaths from the virus have sky-rocketed from 12 to 54, all of whom were unvaccinated; hospitalisations have jumped exponentially, almost all of whom are unvaccinated. The Gamma and Delta Variants are ravaging our people; and there is no end in immediate sight. We are facing a horrendous pandemic of the unvaccinated.
Yet, the anti-vaxxers and those who are permanently vaccine hesitant are daily choreographing deathly dances on the head of the proverbial pin to the accompaniment of a chorus of follies and sophistry, masquerading their mimicry of unreason from outside, with a troubling veneer of innocence and debilitating self-righteousness. Do not expect them to change anytime soon.
The bulk of the persons who are unvaccinated do not fall amongst the anti-vaxxers or the permanently hesitant (and thus, objectively, anti-vax). Their mantra is often: "I am thinking about it" or "I am waiting".
But what are you thinking about? The evidence is overwhelming, scientifically-proven by all established science, that the vaccines are safe and beneficial to our well-being; that the vaccines are the best tool in the toolbox to combat effectively the coronavirus. Thus, what are you waiting for? Are you waiting for more disruption of lives, illness, hospitalization, and/or death? The time is now to take the vaccine unless you are seized of a serious, relevant medical condition which restrains you, as objectively-determined by a sound professional, not a crusading anti-vaxxer or a permanently hesitant in medical clothing.
VOLCANIC ERUPTIONS
The volcanic eruptions have caused many-sided human suffering, dislocation, socio-economic disruption, and immense damage to the nation's physical infrastructure. The World Bank has preliminarily estimated that the volcanic eruptions have generated gross financing needs of US $174 million (EC $470 million) or 24.4 percent of Gross Domestic Product; this is huge, and it compounds the ravages of COVID-19. In 2020, the economy contracted by an estimated 3.8 percent (the lowest decline in CARICOM with the exception of Guyana which grew robustly because of oil discoveries); the economy of St. Vincent and the Grenadines is estimated to decline further in 2021 to the extent of 6.1 percent. A rebound in growth, in excess of 8 percent, is projected for 2022. But this projected revival is subject to downside risks of natural disasters, a continued low-to-modest uptake of the vaccines, a deterioration in the global economy, and a less-than-optimal execution of our nation's rehabilitation and recovery efforts "to build back better and stronger."
RESILIENCE, SOCIAL SOLIDARITY, FAITH, WORKS, AND QUALITY LEADERSHIP
In our recovery efforts from the pandemic and the volcanic eruptions, it is necessary and desirable that we draw on our historic resilience, inclusive of the heroic contributions of our forebears; engender meaningful and practical social solidarity; display strong faith accompanied by uplifting works; and provide demonstrably quality leadership in communion with the people, and in concert with support from our regional institutions and the global family of nations, inclusive of the United Nations, the World Bank, the International Monetary Fund, among others. We thank all those from the region and internationally who have been helping us in this very difficult period.
We must extol social solidarity especially in these times. Social solidarity is based on an alive social individualism not on an abstract, meaningless, and dangerous atomised individualism as, for example, parroted, in respect of not taking the vaccine, in the empty, imported slogan of "my body, my choice" — the very language of the absolutist abortion-on-demand advocates and the philosophical underpinning of individualistic, unrestrained "free enterprise" and global casino capitalism, both of which are inimical to the sustainable development of our society and the individuals therein.
Our national anthem correctly affirms that "our faith will see us through" our challenges; but that is only part of the story. The Book of James (brother of Jesus) eloquently teaches:
"What doth it profit, my brethren, though a man say he hath faith, and have not works? Can faith save him? If a brother or a sister is naked, and destitute of daily food, and one of you say unto them, Depart in peace, be yet warmed and filled; notwithstanding ye give them not these things which are needful to the body; what doth it profit?
"Even so faith, if it hath not works, is dead, being alone.
"Yea, a man may say, Thou hast faith, and I have works: Shew me thy faith without thy works, and I will shew thee my faith by my works.
"—-But wilt thou know, O vain man, that faith without works is dead?"
Quality leadership is demanded now more than ever. It must stand unequivocally for something; or it will fall with, and for, nothing. The leadership must be responsive and responsible. It must be clear sighted and it must know the times; it must be steadfast; leaders must lead in the very way that teachers must teach, and prophets must prophesise. These are times for transformational leadership, not petty-fogging, weak, indecisive leadership.
Quality leadership inspires in the sense of putting in something valuable to his people; but the leader must do much more: The leader  must draw out that which is of quality, goodness, and nobility resident in our people; and oft-times to draw out the quality, goodness, and nobility which the people may not as yet know that they possess; a leader must not follow that which he knows to be wrong, however, noisily proclaimed by some.  Importantly, the leader must do justly, love mercy, and walk humbly with his/her God.
ACTIVISM SINCE MARCH 2020
Since the declaration of the global pandemic on March 11, 2020, the government of St. Vincent and the Grenadines has been active on behalf of our people in these troubling times.  Among other things, our government on the economic/fiscal front presented and caused to be approved by Parliament two sets of Supplementary Estimates and Supplementary Appropriation Bills — one set in April 2020 to address COVID-19; and another in May 2021 to tackle the aftermath of the April 2021 volcanic eruptions; and in January 2021, we passed the Estimates and Appropriation Bill for the financial year 2021.  Together these instruments contained a bundle of measures to stabilise and advance the socio-economic condition of St. Vincent and the Grenadines.  Elaborated therein were, and are, fresh initiatives, reflecting fresh ideas within sensible public policies, for the altered, and evolving, circumstances of our country.
The government also secured the passage of important pieces of legislation touching and concerning the pandemic and the volcanic eruptions. Last year, too, we conducted peaceful general elections, reflecting the will of the people. Good governance has continued unabated. Objective observers, regionally and internationally, have commended the outstanding performance of our government in this period. The public servants, other central government employees, and volunteers have all made it possible for the continuance of our nation's good governance; so, too, all persons in the private or non-governmental sector. I thank them all!
In these challenging, even perilous times, I expect even more productive labour from all Vincentians in the public and private sectors.  It is up to us to build back better and stronger.  We must not shoot ourselves in the foot, metaphorically speaking.  Our tasks ahead are immense.  Let us do our very best.  Now is not the time for useless bickering or the pursuance of personal agendas, inclusive of vaunted vanities, divorced from the people's real conditions of life and living.  I say to the general public: Do not allow anyone to mislead you or divert you from the public interests at his time of peril and uncertainty.  And I simply ask of those employed in the central government and state entities: Much has been favourably delivered to you, much is expected of you; you have been protected, by and large, from the worst economic consequences of the pandemic and the volcanic eruptions; so, the general public expect you to pull your weight even more than ever.  And please everyone, take the vaccine!
Personally, I recommit my all, my very being, in the service of our people of all walks of life and of all political persuasions. But, I shall give no quarter to those who act against the public interest.
CONCLUSION
In going forward, I ask that we all take heed of the wise advice from the Book of Ecclesiastes:
"He that observeth the wind shall not sow; and he that regardeth the clouds shall not reap.
"—-In the morning sow the seed, and in the evening withhold not thine hand: For thou knowest not whether shall prosper, either this or that, or whether they both shall be alike good."
Please remember: Resilience, social solidarity, faith, works, and quality leadership.
Advertisements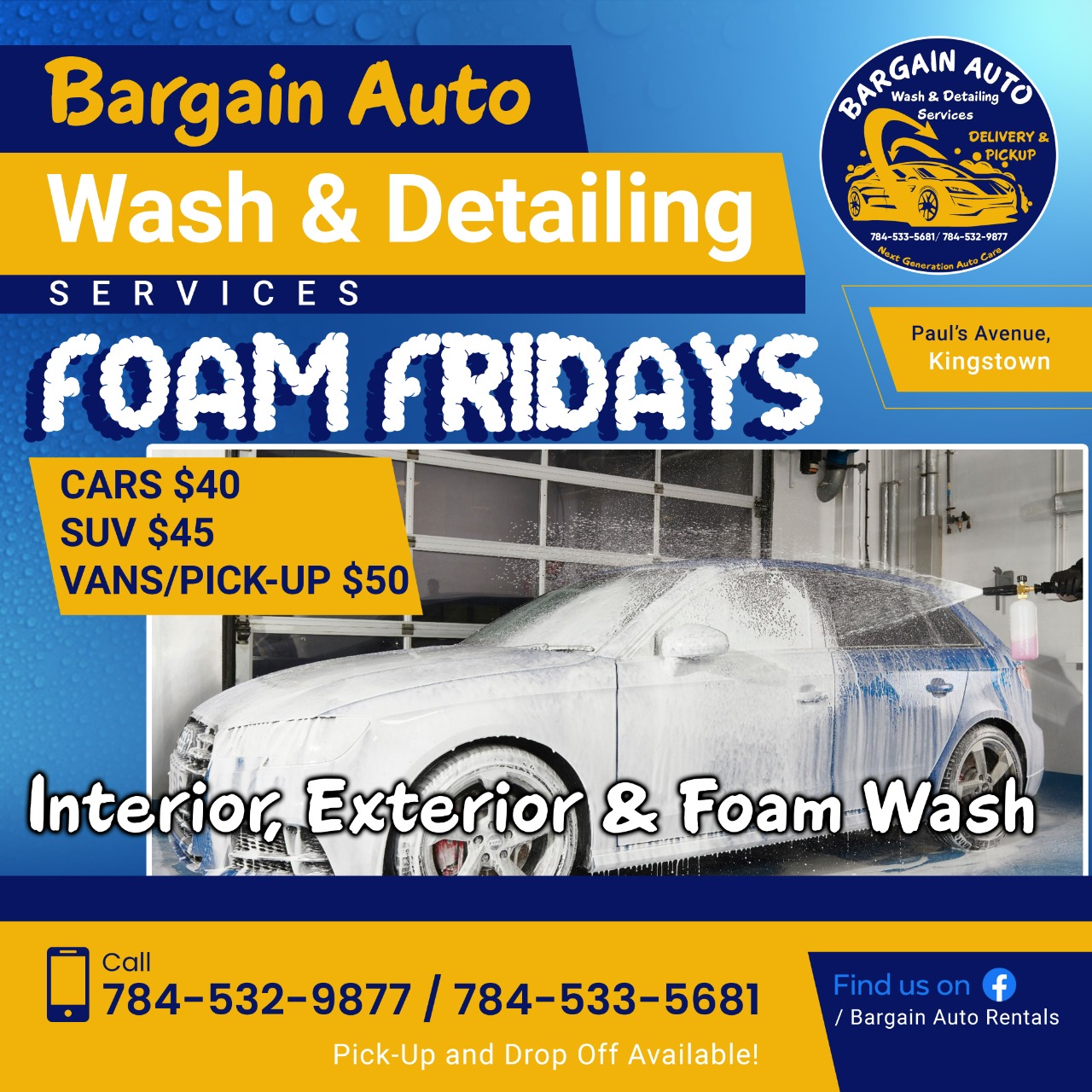 Happy 42nd Anniversary of Independence, SVG!