The Executive of St Vincent and the Grenadines Football Federation (SVGFF) is pleased to announce that it has completed the purchase of five acres of prime land at Cane Grove.
Funded as part of the FIFA Forward Programme, the land which cost EC$2.4 Million, will be used to erect the highly anticipated and long-awaited "Home for Football".
This "Home", when realized, will host a full-size international Football field, a Futsal facility as well a Technical Centre, equipped to accommodate two teams and their officials.
Already, the SVGFF has developed an artist impression of the entire project, which we have provided for you to preview and peruse. However, more detailed designs are forthcoming and would be unveiled during 2022.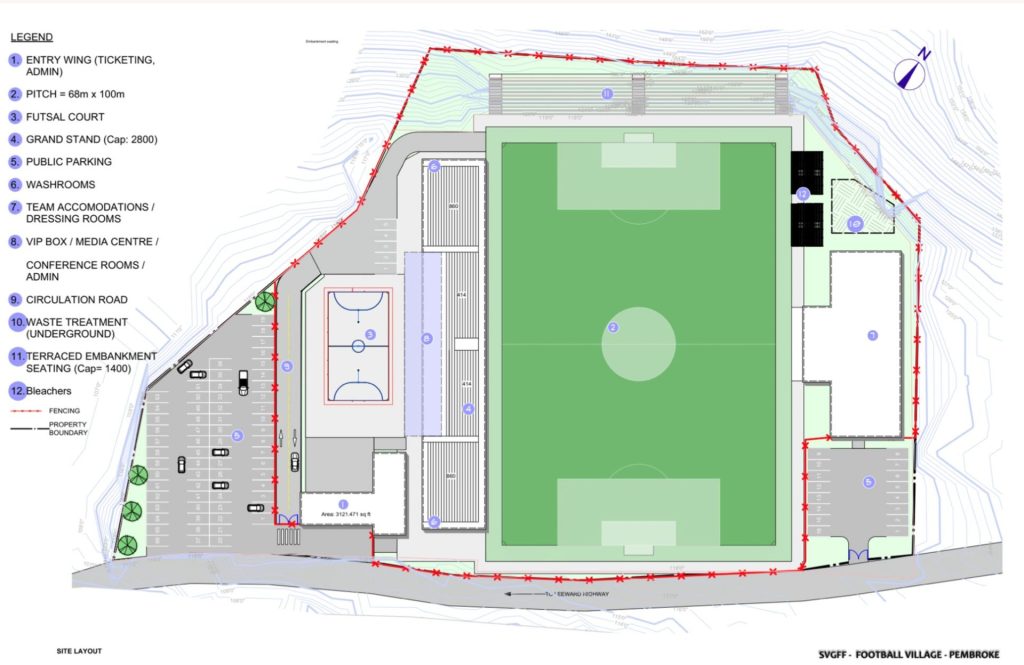 Speaking on the landmark achievement- President of the SVGFF- Carl Dickson said: "This has to be the most welcoming news for St Vincent and the Grenadines' Football for many years, and it comes at a time when the sport here and the world over, has to battle with the scourges of the coronavirus pandemic".
"We view this major announcement as a gift not only to the thousands of footballers, fans, and stakeholders of the sport here in St Vincent and the Grenadines but to the entire nation, as we celebrate our 42nd anniversary of independence…It has been a life-long dream for the SVGFF over the years, and we are pleased that at last, a Home for Football is closer to reality", Dickson highlighted.
Commending the state and other government agencies for their unwavering support for Football, Dickson commented, "We have relied immensely on the resources of the state for many years, of which we are grateful and we thank the various governments which have been partnering with us and we are happy that we are in a position now to contribute significantly to the sporting infrastructure of the country".
Dickson noted that the SVGFF is presently negotiating to access the necessary funding for the other phases of the project. Elated with the progress being made on the Home for Football thus far, Dickson promised, "with the support of all stakeholders will continue to carry out its mandate of developing all the facets of St Vincent and the Grenadines' Football".