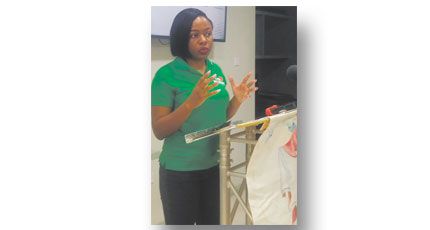 Rotary Family and St. George Lodge support 54 affected families. Fifty-four families from villages across North Leeward and North Windward whose homes were damaged during the explosive eruption of La Soufrière Volcano last year, were on Tuesday presented with shopping vouchers.
Each voucher is worth EC$3,000 and is to be used to purchase building supplies from Coreas Hazells, to effect repairs to their homes. The voucher must be used within three months of being issued.
The assistance came from a collaboration involving the Rotary Family in SVG and St. George Lodge, and has a total value of EC$ 170,000.
The outreach is also facilitated by Coreas Hazells, which has contributed to the effort by subsidizing material costs and providing logistical support for the distribution of materials to the recipients.
During a handing over ceremony at Coreas Ltd head office in Kingstown on Tuesday, Rotary Assistant District Governor for St. Vincent, Shafia London, praised the team at Coreas and the members of the community groups in the respective areas for their support and recommendations of persons most in need of the assistance.
She said the initiative intended to ensure that persons can return to their homes and strengthen community bonds.
"Having these homes repaired increase the opportunity for displaced families to reestablished strong social, economic and cultural ties with the community. When people have homes that they feel safe and secure they feel integrated into their community," London said.
Trevor Thompson, a representative of the St. George Lodge, said the donation by his Lodge was a continuation of the assistance which its has been providing since the start of the volcanic eruption.
"We in St. George Lodge saw this undertaking as a three phase undertaking. The first phase was the assistance given to the displaced persons while they were in the shelters. The second phase was the cleaning and clearing phase. We are now entering the third phase which is the assistance to the restoration and construction of homes damage during the volcanic eruptions," Thompson explained.
In recognition of the fact that EC$3,000 might not be adequate, Thompson went on to promise that that the Lodge "…. will make further contributions to ensure that as many homes as possible are restored to their original condition. So you can expect to receive further contribution from us."
A number of the recipients expressed thanks for the assistance.
Cyril Providence of Chateaubelair said that he was very happy for the support. He admitted being worried and uncertain about how his house would be repaired.
He is thankful to God and all those who made the donation a reality.
Source Kenville Horne (The The Vincentian)