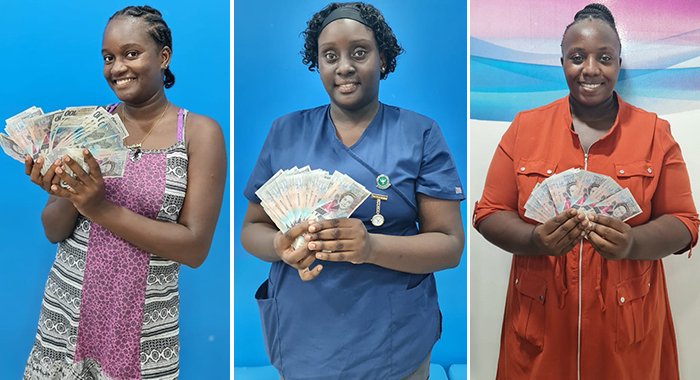 Flow St. Vincent & the Grenadines officially wrapped up its Summer Train Promotion with a livestream draw at the company offices in Kingstown, on September 9th.
The promotion which ran for just over three months, rewarded customers of the telecommunications magnate for completing various qualifying transactions weekly. Prizes included staycation weekends, iPads, Samsung Galaxy devices, event passes, gas vouchers, cash and more.
However, the Summer Train grand finale kept the popular cash only option rolling as the Flow team announced $10,000 would be up for grabs.
The draw, hosted via Flow's Facebook page, brought together anxiety-stricken finalists Aveisha Stapleton, Jenitha Commissiong and Janique Greaves.
Host, Flow's Dazilon Arthur, kicked off the proceedings by announcing that each finalist would not be disappointed … each would receive a cash prize.
The online audience too was eligible to win prizes. The draw and livestream lasted 30-minutes as runner up $500, $300 and iPad winners were announced before the finalists had a chance to choose their winnings.
Each finalist picked from a supersized sealed envelopes.
Flow's Arthur shared "It's always a fun time when we get to interact with our customers in real time. The comment section was so animated, and each finalist had their own group of followers cheering them on."
When it was time to reveal their choices to the in-store and online audiences, Commissiong was overcome with a mixture of excitement and confusion as she had chosen $5,000. Stapleton, equally excited, won $3,000 and Greaves $2,000.
Commissiong and Greaves qualified by adding new Flow services to their existing accounts while Stapleton qualified by paying a Flow bill in full and on-time.
Following the grand finale draw, those following the livestream were given chances to win cash and Samsung Galaxy devices in several trivia competitions. (Source: Flow)