26 year old Lucky-Anna Ross is on a mission to help the utilization of holistic methods of feminine hygienic practices become more widespread here in St. Vincent and the Grenadines.
Lucky-Anna says her business, V-CARE, is geared towards providing products that support feminine health, hygiene and fertility. These include combatting fibroids, cysts, endometriosis, irregular and painful menstrual cycles, bacterial infections, imbalanced hormones, and more.
According to Miss Ross, a lot of the issues ailing women can be dealt with through the use of more natural methods, as opposed to seeking the help of a traditional doctor. The young entrepreneur said that some of the solutions suggested by doctors in these situations do not really get to the root of the woman's problem, but are most times just temporary fixes.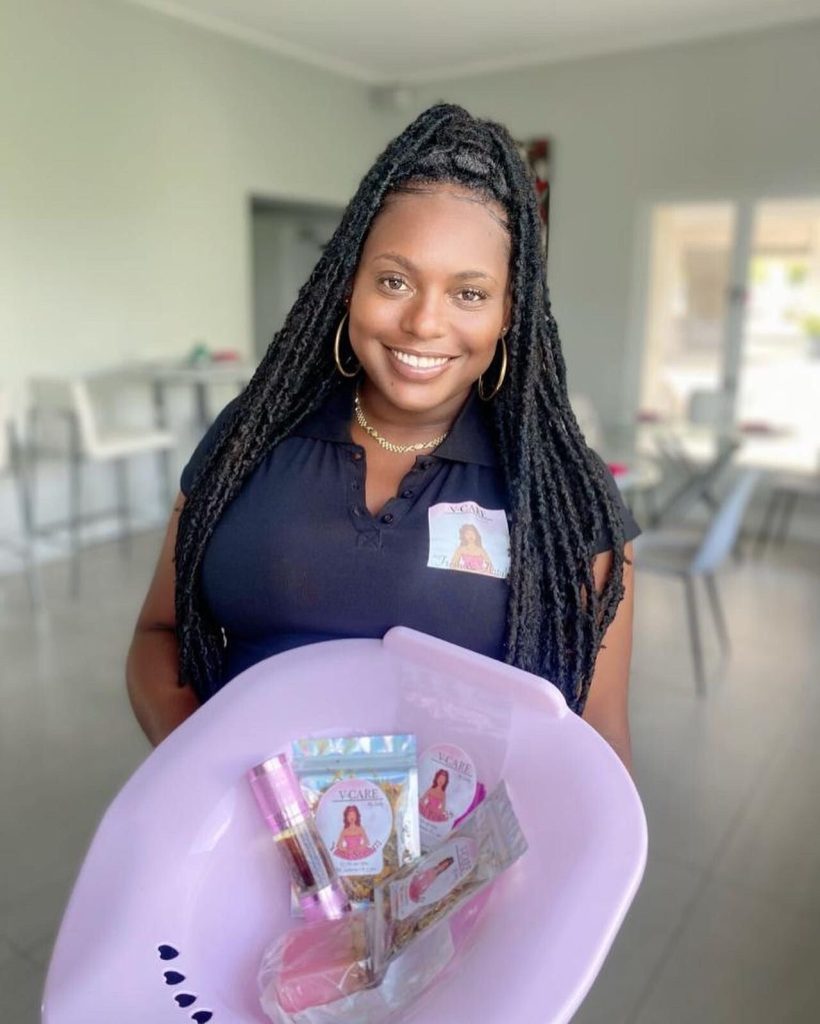 'Women go to doctors for cases that natural herbs can help to eradicate and are given antibiotics that don't get rid of the condition the woman is facing at hand…but it only suppresses it for a bit then it's back to square one. I have had a lot of women come to me telling me their doctor gave them this and that antibiotic and before 2 weeks they are back with the same problem.' Ross said.
Lucky-Anna says that while she does not claim her products to be magical, she does guarantee that her customers will see their desired results through her products.
Some of the products provided by V-CARE are yoni steams, yoni pearls, soap bars and oils. Ross says she intends to expand the products offered by V-CARE to include organic pads, organic tampons, womb teas, as well as an expansion into men's penile health.

When ANN asked Lucky-Anna about some of the challenges she has face since embarking on this entrepreneurial journey of hers, she made mention of the reluctance of some people to try her products, due to certain misconceptions. However she said these myths have been dispelled numerous times, as she herself uses the products, and she also posts all customer reviews for utmost transparency.
'The challenges I have faced aren't many but the main one would be persons being against the products I sell because of myths they may have heard but I use my products and I post all my customers reviews so others can see and be encouraged to give it a try.' she said.
When asked about some of the highlights of running V-CARE, Lucky-Anna said it was the hope she provided to couples that would have been informed by doctors, that due to fertility issues they would not be able to have children of their own, but through her products have been able to jump over their hurdle to make their dreams of having children a reality.
'What I have enjoyed the most since doing this business would be the hope I have given to couples who have been told by doctors that their partner cannot conceive, and through using my products, they were able to bring life. I have customers who have been battling with conditions for years and since they have started using my products, these problems are no more.'
Lucky-Anna says she considers this business venture a success due to the lives that she has been able to touch because of it. She expressed gratitude to God for granting her the opportunity to be running this business for over two years now.
While V-CARE does not currently have a physical location, interested persons can contact Lucky-Anna via WhatsApp at (784) 432-9554 or reach out via the V-CARE instagram @_v_care.