Owner of the Queen's Hideout catering service, 27 year old Kelisha Ryan is an entrepreneur not just because she wants to be, but because being her own boss, and running her own business, according to her, is something she craves.
Kelisha says her push down the path of an entrepreneur began after graduating from the St. Vincent and the Grenadines Community College, when she faced difficulty in gaining employment, but what would appear to be an obstacle would instead serve as the directional sign for her entrepreneurial journey.
Ryan says being your own boss is something that was always familiar to her, as both her parents have always had their own businesses.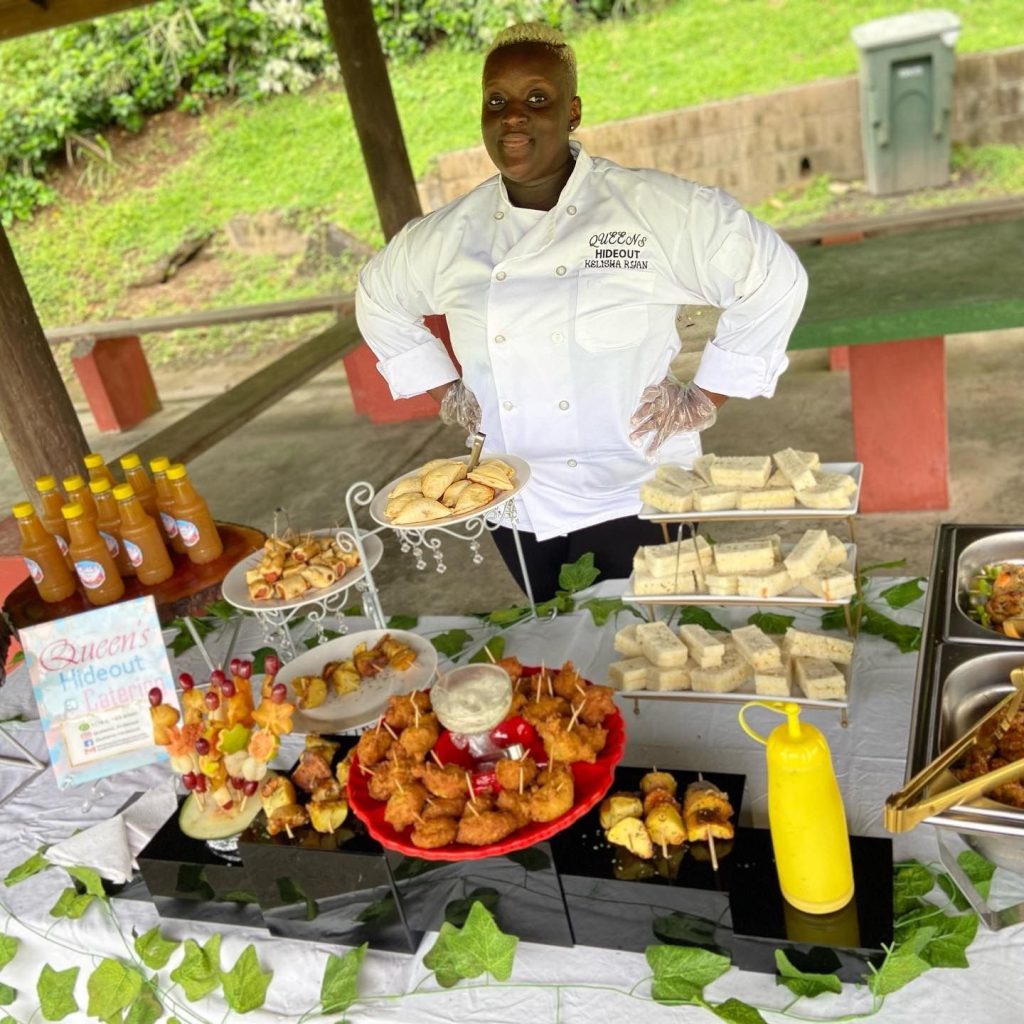 'I always crave the feeling of being a boss because of the environment that I grew up in, both my parents were self-employed, my father owned a firewood bakery and my mother owned a shop which is still up and running.'
Kelisha says her foray into business started when her father turned his bakery over to her. From there, the business gears in her head started turning, creating new ideas that would eventually lead her into forming a catering business.
'After being home for a while without a job my dad turned the bakery over to me and that's when I decided that I wanted to do something more than baking… I felt like I need to change some stuff so I started off with a pizza sale and that went really well so o start to add other things to the menu like cinnamon rolls, raisin rolls, Pattie's etc and I saw the feedback from the community was incredible so I continue to change everything bit by bit until I eventually start doing catering.' Ryan said.
However, Kelisha's entrepreneurial journey was not without its challenges. Kelisha, like other Vincentians, had to contend with the harsh effects of the explosive volcanic eruptions of La Soufriere. During the eruption she would be forced to shift the operational base of her business several times, which would result in adversity, adversity that introduced the thought of giving up to her, but the Queen's Hideout owner did not entertain the thought and kept pushing forward.
'During the volcanic eruption I was forced to evacuate from home and operate from fountain, these days were some of the most challenging times in my business because I wasn't in my comfort zone and with everything that was going, many days I felt like giving up but after being there for a month I build a clientele there and the support was really good so I decided to spend 2 more months there, after being there I was informed about a place available for rent at canash, I then spent about 5 months there and after that didn't work out I then moved to another location at colonaire and that didn't work out either, that's when I moved back home and set up back just like how I started and continued business from there until now,,, so this I would say was a learning experience for me and I am grateful that I went through it because it only makes me stronger.' she said.
Kelisha says what she enjoys most about running her own business is the happiness on the face of her customers, as well as being in control of her own business.
'The Satisfaction, the smiles and wonderful feedback from my customers, the joy that come in my heart from seeing my customers happy and content, to look back at my work and smile because I can't believe I really did that and also the freedom to do what I want when I want because I don't have to answer to anyone but myself.'
The keys to being a good entrepreneur, according to Kelisha, are being kind and courteous to your customers, good management of that business, and pouring lots of respect and love into your work. She says one should love their work so much that they forget that they are even being paid.
In her advice to young women here in St. Vincent and the Grenadines who are thinking about starting their own entrepreneurial journey, Kelisha said they should simply 'go for it'.
'To the young women out there who are thinking about starting a business, my advice is to go for it, do not hold back, no matter what anyone may think or say, get up and get it. Just make a start, that's all you need to do and always remember to put God in the center of everything because without him we are nothing'
When asked what she would do differently, Kelisha said nothing would be changed, because everything that she had experienced up until this point is what made her and her business who and what they are now, and she is grateful for all those experiences.
Queen's Hideout caters for Weddings, Funerals, Baby showers, Surprise parties, Carnival events, Private brunches, Pool parties and Beach activities.
They can be contacted at phone number:1-784-593-2332, or email at [email protected]/[email protected].