By Renita Morris
Featured Queen

Miss SVG 1998 – Idinger Miller

What activities did you participate in pre-show?
Today, many people know Mrs. Idinger Miller-Walker as the Deputy Hospital Administrator at the Modern Medical Complex in Georgetown. However, long before her current role, Idinger captured the hearts of Vincentians when she was crowned Miss SVG 1998. Interestingly, Idinger was not in the initial line up of contestants for the pageant. She joined the pageant three (3) weeks before show night and competed without a chaperone.

Recently, we caught up with Idinger to find how life has been for her since her reign as Miss SVG 1998. Please see below experts from an interview conducted with the former pageant Queen.

What was it like preparing for the pageant?
For me it was very hectic, as I entered the pageant only 3 weeks before competition night. Two contestants decided to drop out almost last minute. I basically coordinated everything for myself; traveled to Trinidad to buy fabric and other accessories. I had one practice session for my talent and I was worried I was not going to be able to deliver on my talent segment but it all turned out well.

In my time, the activities were not as much as today's events. As such, we had few motorcades to the different communities, had a few stops to meet and greet the general public. Apart from that, it was just radio and television interviews.
How important is the contestant/chaperone relationship?

Although I did not have a chaperone assigned to me, I think it is very important to have someone to give you a generous amount of support that you will need. Someone to reassure you that you will be ok. Someone to help you with the everyday preparations, to take some of the burdens off you. To even guide you through the pressures you encounter from the general public. To guide you into simple things like, if red brings out your beauty better or if blue will be best for you. Someone to tell you if an oval earring suits you better or you should wear a stud base on your outfit. So I would say, a chaperone is paramount to the success or outcome of your participation in a national event like Miss SVG.
What was the experience like on the night of the pageant?

It was nerve-racking. As I mentioned before, I only had three (3) weeks to prepare for the pageant. Going to the "big stage" for the first time had me a bit worried I must admit. The night of my pageant was very rainy and I wondered if people will really come out to support me, but then it happened all so fast. Before I had a time to breathe, it was over.
How many categories of the pageant did you win?

If my memory serves me right, I won 2 categories which were Best Talent and Best Interview.
How was your reign as Miss SVG 1998?
My reign as Ms. SVG in 1998 was rewarding. It allowed me to meet with influential people who imparted lifelong knowledge unto me. I officiated at a few sporting activities, participated in regional pageants all of which I placed in the top 3. I also did pageants for charity in St .Croix (US Virgin Islands) and conducted promotional activities and events for some local businesses.
What is your most memorable moment from your reign?

The most memorable moment in my reign was the show I did for charity in St. Croix, it was an honor to be able to fulfill the objective of assisting children who were in need. In that show, I was asked to come back on stage and repeat my swimwear category/ walk. It was a great feeling to be welcomed and appreciated by the patrons of that show.
Please share some best practices for future contestants.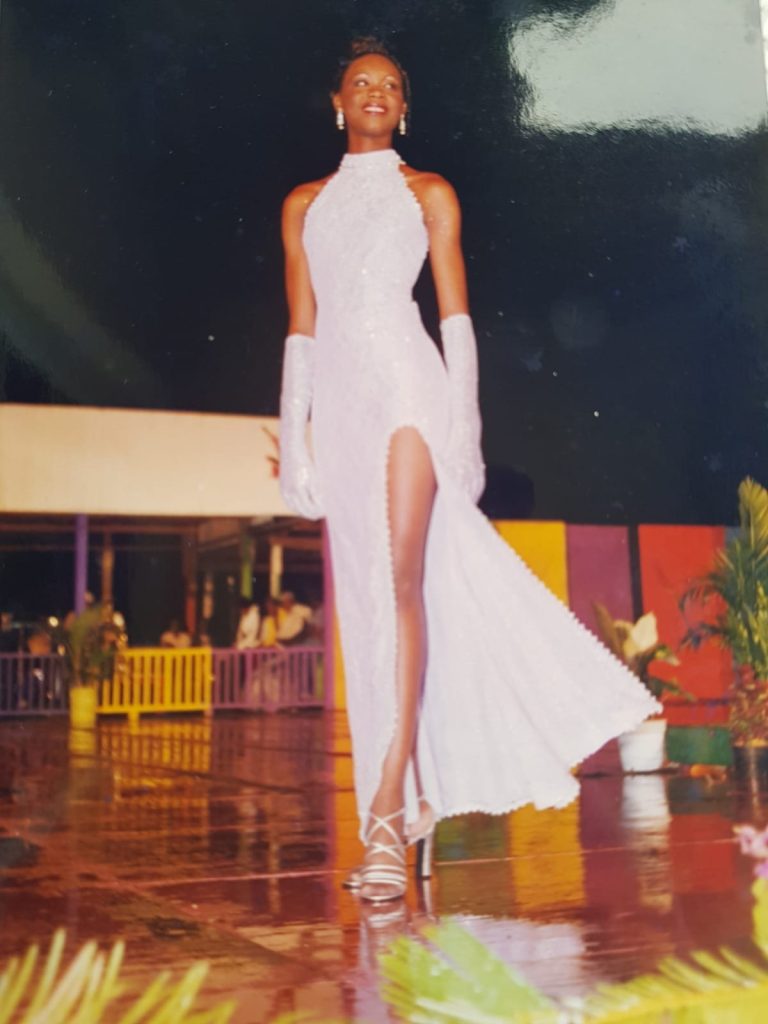 I would say to future contestants, if you have a passion for pageantry go for it. There is no harm in entering pageants. Not everyone will come out victorious. Just know that you have to decide for you, if you want to enter the pageant, do not allow anyone to deter you. It is through participation in events like these that one can gain meaningful experience and gain opportunities. You can also learn lifelong lessons and skills; you also get to enhance qualities you already have such as patience, confidence and self-esteem. Set the goal or goals you hope to achieve from entering the pageant and stop at nothing to achieve them.
What would you say to the ladies who are vying for Miss SVG 2022 to be held end of October 2022?

To the contestants in this year's pageant, I wish you best of luck, continue to work as a team, build networks, and trust me they come in useful throughout your lifetime. You are all winners though only one will be crowned Miss SVG 2022.
Final Words…

The Miss SVG pageant has evolved over the years and I like what I am seeing so far for this year's competition; the community outreach and the nonstop activities. It makes you look forward to seeing what's next. Entering a pageant of this nature as I have said before, can help you to enhance the qualities and skills you already have. You can gain quite a bit of experience and opportunities like an academic scholarship, something that will give you a head start to your future. I urge the Vincentian public to be supportive in whichever way you can whenever you encounter the ladies. Go out on the night of the pageant and support them. May the Beauty Shows Committee continue to strive for excellence. Best of luck to all the contestants and may the best girl win!
Stay tuned for more interviews as we continue the series on the road to the Royal Return – Miss SVG 2022.