Passionate, dedicated, hardworking and driven are just a few words used to describe 29 years old Lystra Brackin of Sandy Bay Village. A teacher by profession, but most importantly, the owner of Nika's Unique Designz, a sewing business.
Lystra's inspiration for delving into the world of sewing was inspired by the struggle of her mother to buy her new clothing growing up. Also credited for giving her the idea to get into the sewing business was seeing custom outfits people would have designed around the time of independence celebrations.
' Growing up in a home where I saw the struggle of my mother to buy me new clothing motivated me to build my own clothing. During my years at school, I would always admire how students would be decked out in their lovely outfits on special occasions such as Independence Day celebrations and often longed to be in a similar outfit. Thus the idea of making my own clothes was born.'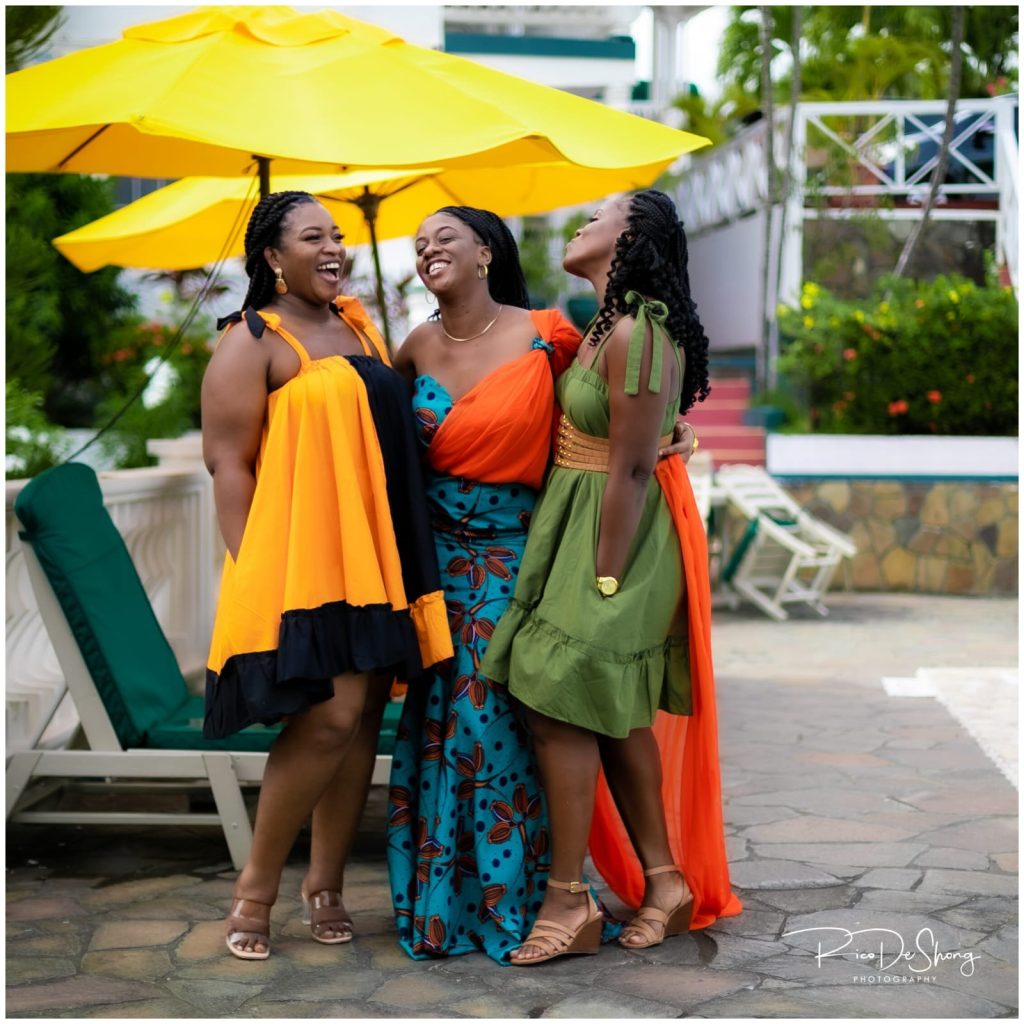 It was in 2018 when Lystra would decide to start sewing clothing just for herself as a hobby, this hobby would grab the attention of those around her and ultimately late to her receiving requests to bring their ideas to life.
' In 2018, I started sewing for myself as a hobby and the passion I have for creating pieces of clothing gave me a sense of satisfaction to see the final product come to life. As time progressed, people started to notice my work because I posted my self made pieces on Facebook and Instagram. That was when they started requesting for me to bring their creative ideas to life and my customer base began growing. Consequently, in 2020 I decided to officially open a registered business to meet the growing demand for my service and to serve my clients better.'
Lystra said that there have been challenges faced since the start of her business but noted that there is no way for a business to exist without at least a few challenges.
' There is no business that exists without challenges. One major challenge that I encounter is pricing garments. With the increasing cost of sewing related materials and the competition of online stores, setting prices can be very difficult. Additionally, sourcing the right fabric needed for various projects has proven to be a challenge. As you may be aware, having the right fabric makes the garment stand out and this is not always readily available. Another issue that I encounter is people crediting the service and are not forthcoming with the payment. This not only demotivates me but it sets me back financially and puts me in a position where I do not want to grant credit for my service since I have to spend much time producing the garment and still must wait so long to get paid for them.'
Lystra shared with ANN that faced with these challenges she has developed solutions to them.
'Now that I'm more au fait with this type of business, I've set it up in such a way that I'll now take bookings no less than 3 days prior the due date of the garment. Additionally, to safeguard myself against working without getting paid, I require a 50% down-payment of the total cost and the remainder to be paid when their garment is collected. Also, clients are required to do fitting before pick up so as to avoid extra work.'
Lystra noted that while a business does come with its fair amount of challenges, there are also some highlights, and for her, one of the highlights of having her own business is the satisfaction of her customers.
'As much as a business has its challenges there are also the good moments. My most satisfying moments are seeing my customers happy knowing that I have met their needs, understanding how to do something after many tries and positive feedback from customers, potential customers and even other seamstresses.'
We asked Lystra what her take is on success, what she defines as success, and if she considers Nika's Unique Designz a successful business and herself, a successful entrepreneur.
' Everyone has their own meaning of success and it's a work in progress. I literally view success as a journey and consider any achievement as success even the smallest of things. Therefore, I try to use every opportunity to hone my craft and to develop new skills that are needed for my business as well as to continuously develop excellent customer service. That way I am able to achieve the goals of my business, increase my clientele and ensure customer satisfaction. This gives me a great sense of satisfaction and makes all my hard work worthwhile thus motivating me to continue persevering to be the best.'
She emphasized the importance of an entrepreneur understanding what their business is about in order to ensure the utmost satisfaction of their customers and their needs. Also emphasized by Lystra was the necessity for one to be able to dedicate the time needed to ensure that their business is running optimally. This, she believes is key to a successful business.
Lystra advised any young woman with aspirations of her own boss to take the plunge and go for it, but cautioned that focus and resilience will be must-haves to brave the challenges that will come their way on their entrepreneurial journey.
'To any young lady out there who aspires to be their own boss I'll say go for it. Find what you are good at and make a start. Customers will definitely come. Most importantly, you must be resilient and focused so that you will be able to challenge 'the not possible' or 'that will not work' comments and prove them wrong. You must be prepared to persevere and execute the plans you have.'
Miss Brackin says getting into the business of sewing, starting her business Nika's Unique Designz is a decision she does not regret at all. She noted that not only is it a source of supplemental income but it also serves as a community service, where tailors and seamstresses are not as common as they once were.
'Do I ever look back and wish I didn't take up this challenge of entrepreneurship? Absolutely not. I am quite content with my decision, even to this day because it's my passion. Sewing is something that is embedded in me from young. Not only is it supplemental income for me, it is also my way of expressing myself through my designs and work. The community has lost most of its tailors and seamstresses, so this was an opportunity worth grabbing.'
In the closing moments of our time with Lystra Brackin of Nika's Unique Designz, she left us with these words, that are sure to serve as inspiration for some, just as the struggle from her childhood and the outfits she saw during Independence Day celebrations served as inspirations for her to get into her own sewing business.
'The old adage says, "Choose a job you love and you would never have to work a day in your life", therefore when you do something you love dearly, it's fun and exciting so no matter the obstacles or hiccups, the fulfillment at the end is what really matters.'