Nashida Lasean Sara White, born on the Twin Island state of Trinidad and Tobago, is a mother to three children, who, according to her motivate to be the best individual that she can be.
Nashida moved to St.Vincent and the Grenadines at a young age, spending most of her years living in Union Island, where she attended preschool, primary, and secondary school. After secondary school, she studied at the Community College where her focus was natural sciences. In 2009, Nashida started Nursing school, she says her tenure there has made her into the person she is today.
As much as she loves her profession as a nurse, she has not allowed herself to be blocked into just that. She has been in business for over 12 years. Nashida shared with ANN just how she got started in the world of entrepreneurship.
'I always liked working with my hands, which is quite weird as I never did art and craft in secondary school. I chose this business, the prop shop, because when my son turned one, I wanted to have a sesame street party and could not find anything surrounding that theme In Kingstown. I, therefore, had to turn to my crafty nature and make props. Persons that attended showed interest and from there a business was launched.'
But Nashida did not stop there, as she also went on to start a sister business to accompany her first business.
'The balloon bar which is a sister business came about because while a person would use certain trendy themes not found in St.Vincent, they would inquire about balloons, So therefore Invested and that business has been doing pretty well. Little by little I add inventory to my business. which facilitates its growth.' she said.
Nashida cited the growing cost of living and a love for extravagant children's parties as two main motivators for her foray into this type of business.
'We all have to admit that the cost of living has increased in the past few years. Seeing the need to have more spending power was one of my main objectives in starting a business. Another reason I should add is that I love to see nice children's parties, like out-of-the-box and niceness. As people often say I am a bit extra!'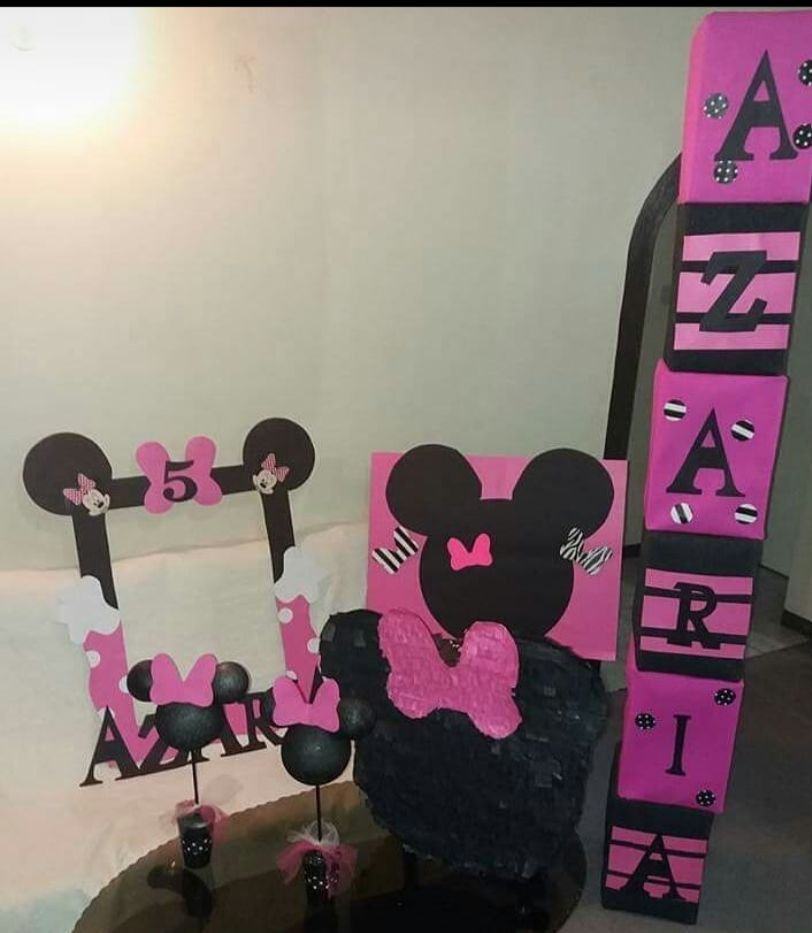 However Nashida's entrepreneurial journey has not been all sunshine and rainbows, as like many other entrepreneurs she faced her fair share of challenges.
'Some challenges I faced were a lack of start-up income and negative feedback from some individuals who don't see the need to " do all that " for children. Another major challenge that seemed incongruous to my business flourishing was the inconsistency of businesses where I sourced my material. One week they have something, and the other week none which can be very frustrating.'
Never one to focus solely on the negatives in life, Nashida also shared with ANN some of her favoured moments since starting her business.
'This type of business was new to St.Vincent, I loved being able to bring that here. The feeling of seeing people happy and being able to allow people to be themselves through my work is priceless. Parents were able to do what they really and truly wanted for their children without having to source from neighboring islands or Internationally and paying large sums of money. Being able to make the RT. Hon Ralph Gonsalves's cake topper was a moment I would forever cherish. Some other notable moments would be the many times I have used my creative skills to give back to charity or raise funds.'
When asked if she considers her entrepreneurial journey to be a success so far, Nashida had this to say.
'If we are to critically analyse the concept of Success we would see that it is multi-dynamic. Success is relative to culture, an individual, and their personal goals. What I would attain and feel successful may not be that to another person. I would deem myself successful in an aspect although I am not fully where I would like to be in life.'
According to Nashida, important aspects of a good entrepreneur are a good work ethic, honesty, discipline, passion for your chosen business as well as good interpersonal and interactive skills. She also noted that a good entrepreneur must also be willing to take risks, cautioning 'Your bad days must not infiltrate into whatever else you are doing.'
When asked what advice she would give to young people looking into starting a business of their own, she had four points to share.
'Number 1 advice, do not listen to the naysayers! Most people try to talk you out of your plans because they don't possess the drive to do it.
Number 2: Always invest in your business, you can't go wrong there.
Number 3: learn jargon and phrases that are affiliated with your line of work.
Number 4: And last but not least, always sell your business!'
Nashida says great time management has been an essential asset to her in finding a balance between being a nurse, mother, university student, and entrepreneur all at once.
'Doing all three, along with being a UWI student is tremendously tiring and confusing some days, but I try to prioritise. I've always been good at managing my time so I do what needs to be done first, first . I also have great support systems which include my family and close friends.'
Knowing what she knows now, this driven entrepreneur said if given the opportunity to go back and do things differently, there is nothing she would change.
'To be honest, I won't have done many things differently, challenges no matter how insurmountable they may seem are blessings in disguise! As they say, what doesn't break you will make you!' she said.
With three children and an awesome support system inclusive of family and friends behind her, Nashida Lasean Sara White has proven there is no obstacle too great for her to overcome!