Zareé Rémon Johnson is a nineteen year old graphic designer with a passion for the arts, a passion that he has used to make his jump into the world of entrepreneurship.
His business Crazii Designs has been in operation since May 2019. It is a graphical firm that offers premium artwork to clientele, both big and small, including event and promotional flyers, business branding packages, music artwork, vehicular graphics, product labels, and more.
Zareé shared with us how he realised the potential he had in the field of graphic design.
'Ever since a young age I've always been interested in the arts, interested in creating and making things. In form 3 of the st. Vincent grammar school is where everything started to take place, i was known as a "youtube kid" because i spent many hours on the app watching my favourite content creators for hours upon hours, to a point where i started my very own youtube channel at the age of 14, making all sort of videos and working in my very first digital software "filmora pro" it was in that moment when i realised that i could do so much different things at the click of a button.'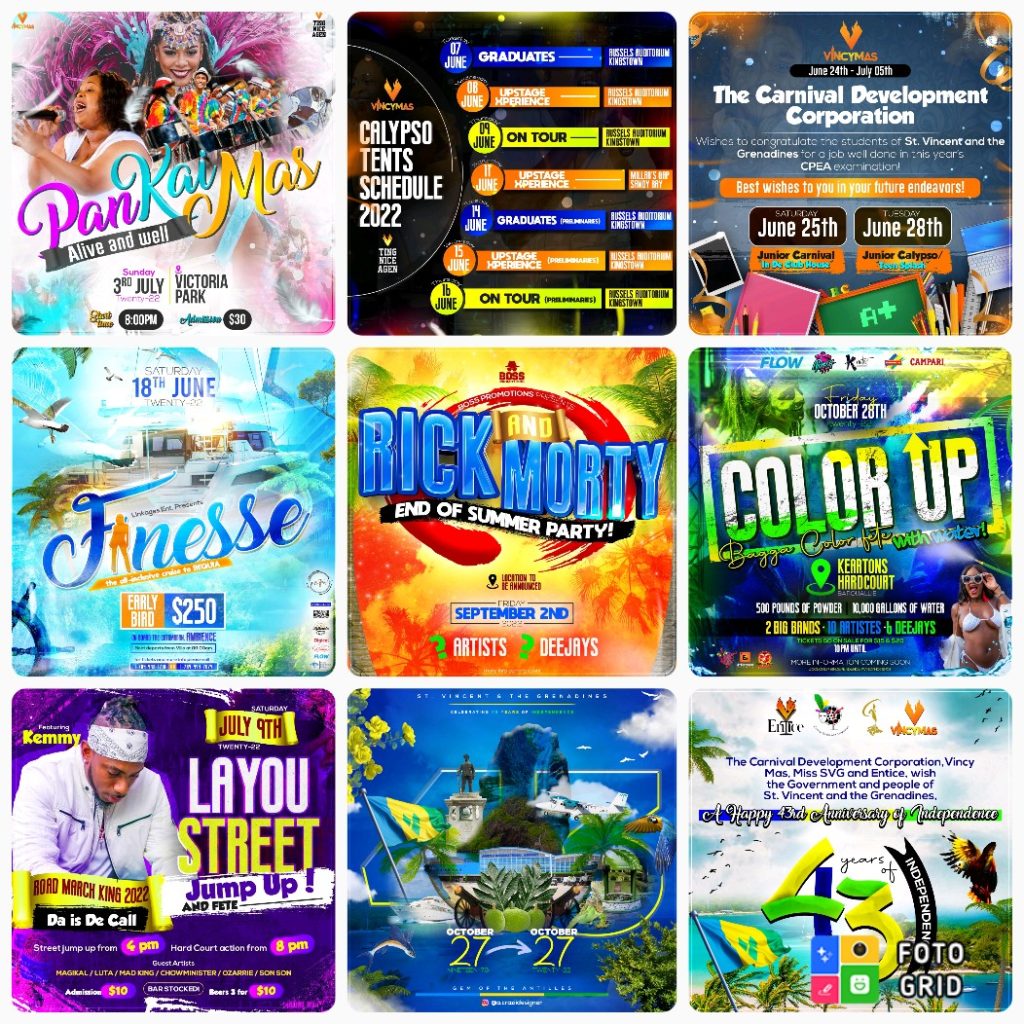 He noted that it was in that same year, during his studies at the St. Vincent Grammar School where he took notice of his knack for art when he would regularly ace the subject. It was while working on certain projects for the subject when he would employ the use of photoshop, from there he would consistently practise, improving his skills with the program in the process.
Zareé then let us in on his first graphic design project, which caught the attention of many of his peers and kick started his career in graphic design with his business Crazii Designs.
'I made my first debut appearance as a graphic artist when i designed a personal shirt for sign up labelled "kxng crazii" where i had folks asking, "yow where you geh dah, i wah one like dah" etc, and i realised i have a skill that some don't have. So I began designing some sign up t-shirts for others as well and as expected they fell in love immediately. After this encounter I proceeded that same night to make an instagram page to showcase my designs. A business that I thought was going to be for fun, quickly turned into something I had a great passion for. I wanted to be a graphic designer. I began to offer my service around my school to get the word out, and before I knew it, Crazii Designs and arts was born in May of 2019.'
The young entrepreneur said one of his biggest challenges came in the form of discouraging comments from naysayers. He however pushed through the negativity.
'Once operating a business, challenges must come, and a big one for me at the time was the competition of senior designers, clouding my judgement saying things like "he is a wanna be designer", "he cyar design, best he stop" and words that they thought would discourage me, but i always remembered my grammar school slogan that says "through rough ways to the stars" and i fought through that period, practicing day and night to improve my skill and before i knew it, my artwork was in high demand by different types of people and organisations'
When asked what he would do differently, looking back at the start of his foray into the world of business, specifically in graphic design, Johnson said that he would have taken a short graphic design course, or seeked mentorship from veterans in the graphic design industry.
'When I started out, I took a while to learn the different tools and techniques to get a job done, and most of it was in trial and error because i had no mentor, I had no teacher at a university to walk me through the pros and cons of this or that, it was all self taught, so back then, what I would've done differently is seek ways from professionals, do a mini graphic design course or something of that sort that will help me to push forward myself faster. Because of what I experienced, I now use the knowledge I have today to help new and upcoming designers to further their skills, free of charge because i know what it was like when I was in their shoes, so I take the skills thats I taught myself over the years and I pass them on, to help others further themselves as well'
Zareé said he considers his business to be a success so far due to the projects he has been able to work on and the businesses and different people he has been able to work with.
'I will definitely say that I'm successful, especially for my age, 3 years ago I would've never imagined that I would be in this position today. As for my business me defining my success is by the people and organisations i surround myself and my business with, the people i work with, the places i see my artwork, sometimes i walk through kingstown and spot different pieces of my artwork and a thrilling feeling goes through my body, a feeling that i can say "yes, i made it"'
According to Johnson, essential qualities of an entrepreneur are humility, generosity, a sense of community, not forgetting where you've come from.
'To me the top quality of a good entrepreneur is someone who is humble, willing to bless those around you because you were blessed. Someone who gives back to their community, and most importantly someone who remembers their past, their struggles, what they went through and who was there for them through hardships, someone who doesnt let fame or money, make them think they are better than anyone else'
In his advice to others thinking of taking the entrepreneurial plunge, Zareé said 'go for it' but cautioned that they should be sure that the business they start is something that they are passionate about.
'All businesses are risks, and that's what scares most people thinking of going into a specific venture, my advice will be to always go for it, make sure it is something you are passionate about and work towards goals set for your business, you will never know if you will be successful unless you try, failure is not an option, if you meet a hardship, pool solutions together and seek the best way to solve a problem, success is a mindset'
Anyone looking to utilise the services of Zareé's business Crazii Designs can reach him via WhatsApp at (784) 491-2586, or call directly at (784) 454-6754.
You can find Crazii Designs on Instagram at @a.craziidesigns, also on Facebook at Crazii Designs and Art.