ANN recently caught up with Roleza Samuel, a young entrepreneur who owns and operates not one, but two businesses, those businesses being RoMax and Vinsee puzzles. The first of the two being RoMax which was started in 2015 and the second being Vinsee puzzles which she recently started.
In our interview with Roleza she shared with us the story behind how she started her first business, RoMax, which according to her had an unintentional beginning.
'RoMax was started unintentionally in 2015. I bought a 'fourth-hand' vehicle that came with a pair of seat belt covers that looked dingy and I decided to cover them. As I sometimes did with things I created, I posted it on social media and two friends in particular, Jarod Lewis and Grenville Williams suggested that I could do it as a business.' Samuel said.
Roleza said that it was following further encouragement from more of her friends to turn her creations into a business that she finally caved and gave into their requests.
'A few other persons agreed and I gave in to peer-pressure and started RoMax Customised Vehicle Accessories, which offers personalised embroidered seat belts, headrest and steering wheel covers.'
She goes on to explain how the COVID-19 pandemic led to the expansion of her business, with Samuel exploring other types of creations.

'In 2020, as a result of the COVID-19 pandemic and the decline of returning nationals (who are the main purchasers of the Vincy-themed covers, the biggest selling items for vehicle accessories), RoMax Customisation was born as I had more time on my hands to explore other creative avenues. This part of the business specialises in embroidered items such as throw pillows, baby items, shirts, caps, business uniforms etc.'
Though RoMax has been tremendously successful here in St. Vincent and the Grenadines, Roleza has set her eyes on further growth for her business, targeting the wider caribbean.

'The business has steadily grown over the years and although I have been trying to pace myself, I am ready for the business to be bigger than it is now. Ever since I started, the main goal has always been to expand the production of the flag replica seat belt covers for the other Caribbean islands and to have them available for purchase primarily within the diaspora.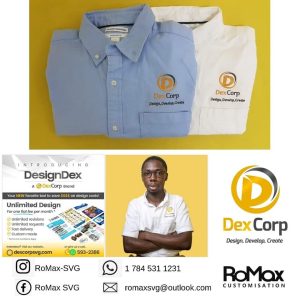 Last June, the covers were made available for purchase at The Trend at AIA, so I take some comfort in knowing that the process has begun but I am ready to get to a level that will allow me the opportunity to employ others. However, this will take getting additional machinery, material and working space. My goal this year is to research and hopefully get a regional or international grant to help to push this part of the business further. Having the covers carry a 'Made in St. Vincent and the Grenadines' tag means everything to me!'
Samuel noted that she enjoys being creative and derives great joy from seeing her creations in various stores
in SVG and other Caribbean islands.
'I absolutely enjoy being creative! I love to know that my customers are pleased with their items. I love seeing my products in use or on display. I love being able to awake each day with some optimism about the day ahead, even when I work extremely long hours.
I truly appreciate my day-one customers and new customers who make repeat purchases or who recommend me to others.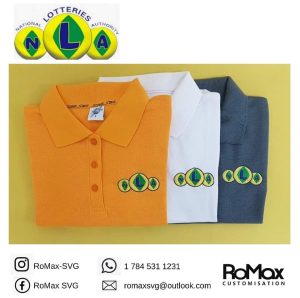 I have always been grateful to places like Automax Auto Parts, Voyager and Giggles, who believed in my products and allowed for the items to be sold in-store. I can't forget the T. Shirt Store, Vetty's and Epicurean (in Antigua and Barbuda) who carried the items in the past. The business may be mine but its success would not have been possible without the support I have received over the years.'
According to Roleza, success is living life on your own terms, and she was able to achieve this success when she decided to make full time the operation of her business.
She said though she was scared at first she knew that this choice was a necessary one.
'Success will have a different meaning to everyone but my definition of success is living life on your own terms. Six months ago I made the decision to do the business in a full-time capacity. I would be lying if I said that I wasn't scared but I felt like I had no choice as doing an 8-4 and then doing a 6-12 every day was killing me! I needed to find some fulfillment to my days and this was what the business provided.
I am still on some very shaky ground as I have had to adjust to the self-employed life; fulfilling my financial obligations while trying to maintain and grow the business still presents me with some anxiety but it was something that I had to do, just to see if I could do it. I am not sure if I will label myself as a success as yet, but I am proud that I was at least willing to try to let my days be filled with my passion and make a living from it in the process.'
Effective communication, passion for your field, and a good starting point are some of the traits that any good entrepreneur should have according to Roleza. She also imparted some advice for anyone thinking of entering entrepreneurial space.
'The starting point, as cliché as it sounds, is that you have to believe in yourself, in your product or your service. Not everyone will get it and they don't need to. Your passion or calling isn't theirs, so they don't need to understand. As an entrepreneur you also need to be an effective communicator. Stay in contact with your customers. Keep them informed about the status of their order. Be polite and honest with your business affairs. Don't try to capitalise on one sale today and possibly lose out on repeat business by unnecessarily over-pricing your product/service. As an entrepreneur, you should also find ways to differentiate your business. Our Vincentian market is small and businesses don't necessarily need to be carbon copies of each other (although in some areas there will be overlaps) but be creative and innovative and think of new products or services that can be added to our market. Above all else, stay focused and committed.'
She also said to any would-be entrepreneurs out there that this is the perfect time to start their own business, with the presence of social media, Samuel said she feels there is no need for 'any young or older person to feel tied to a career or job they don't want to be in'.
To the younger folks specifically she said 'Capitalise on your youth and go right ahead and pursue your own goals and use social media to help promote your business.'
Roleza noted that persons should always be open to receiving advice from others, but warned that this can be a double edged sword.
'Seek advice from others whose opinions you value, however, be mindful of this as well as sometimes people project their fears onto you, even if they meant it with good intentions. You will not get everything correct but seek guidance from someone who has been in business a bit longer than you.'
When asked if she would change anything about her entrepreneurial journey so far, Roleza had this to say:
'To be honest, I don't think that there is anything that I would have changed. As I reflect on my own personal journey with the business, every experience has led me to appreciate that this business is truly mine and what God landed directly in my lap and I am going to take it as far as I possibly can. There have been highs and lows but it has all been part of the growth experience.'
Roleza Samuel's business can be found on both Facebook and Instagram under 'RoMax SVG'. She can be contacted 1 784 531 1231.