In an historic and unprecedented move that shifts a colonial, out-dated, dependency-mentality about agricultural practices in the Grenadines, residents in the least-populated of the SVG grenadines, Mayreau (My-ro), are proudly creating a new subculture: growing their own crops to satisfy and eventually exceed on-island demand – an activity "traditionally" thought to be at best impractical, at worst impossible, on this "dry-weather", rocky island.
An initiative of Cherio Farms, located in Amnesty Mountains, on St. Vincent's northern face, took root in January 2023. The first-of-its-kind project is community-based and focused on food sustainability. The crops are being planted solely by the independent-minded, forward-looking, conscious residents of Mayreau.
Cherio Farms manager, agriculture science student and hydroponics farmer, Rio Connell, says the project is fertilized by the fecund idea of "Planting-What You-Eat-and-Eating-What You-Plant – a practice seeded in his upbringing and in his family's thinking, 'Our Soil is Our Oil'.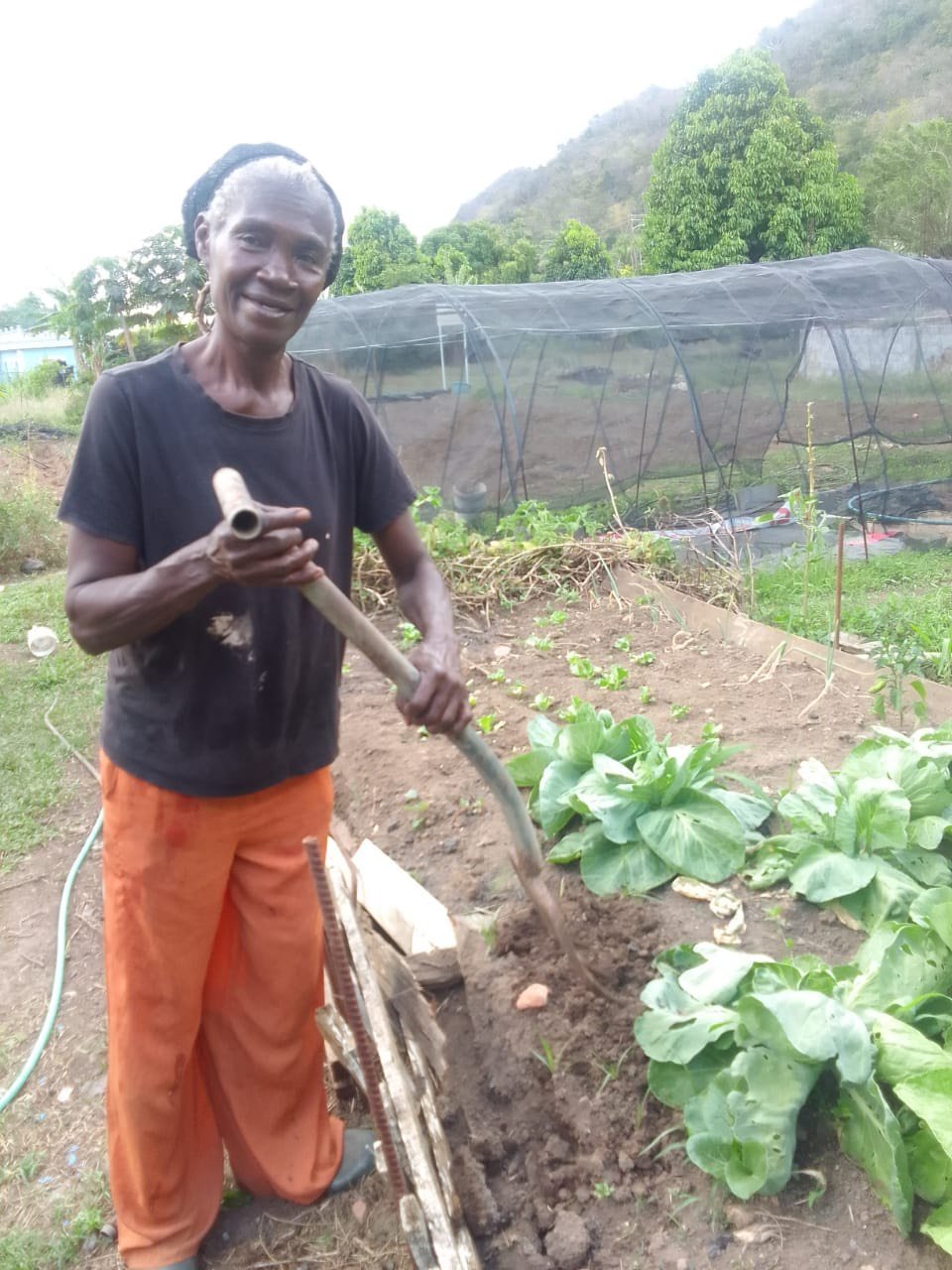 The young farmer's grandfather, Robert Connell, had, throughout the entire decade of the 1970s, successfully managed the 400-plus-acre Mt. William Estate to the west of Byera. That banana and coconut estate was then owned by Victor Hadley. Today, fifty years later, Rio, Robert Connell's 18-year old grandson and former student at the St. Joseph's Convent, Marriaqua, says that the Grenadines Going Green project, using ancient common sense and modern technology, seeks to transmute two truths:
1. That local, native-born citizens of the Grenadines can sustainably and successfully farm, growing their own crops for local consumption and profitable sale year round;
and
2. That the Grenadines cease to be a locale of socio-economic double-standards, a segregated oasis of inequality, where water in abundance and irrigation have always been regarded as a foreign concept, literally, as in an actuality for foreigners not for locals, for example, Mayreau or the "segregated" area of Canouan where locals live. We must, Connell insists, first transform the outdated mindset – and simultaneously the present matter of fact – where parts of the Grenadines are well-watered, green, lush and lawned where the fattened foreigners flourish and other parts, where the Grenadines locals barely get by, are dry, lean, brown, devoid of fruit crops, vegetables, and lacking abundance and fecundity.
Therefore plans are being prepared to take the project to Canouan. Canouan is an island where native human beings are gated – outside the gates – relegated to be outsiders inside their own island. On the same island are "passported" some of the world's richest human "havings". These folk glamorously live on a specifically separated section of the island which is fattened and festooned, quite well-watered and green. It is lush, golfed and landscaped to the tee. On the other, ghetto-side of this grenadine island, live the locals, black, brown, struggling to fish some food from the sea.
The Grenadines Going Green project aims at educationally empowering the people of the Grenadines to change the false colonial mindset that this oxymoronic, "poverty-in-paradise" culture is the best the locals can attain. Growing their own food will remove the lie that says Grenadines people must merely exist, struggling to get by in their dry, largely-water-deprived living areas, where inequality is the reality.
A high standard of living, Connell says, begins with food independence and food sovereignty. In other words, true wealth begins by being able to feed oneself with nutritious food grown on the property on which one lives, leases or legally owns. Then, in conjunction with true communities, those who farm can create a surplus of food, adding value to it, as it adds value to our lives. That then promotes one to a self-sustaining truth, beyond mere survival, to a position of "thrival" – a surplus from trade in those healthy foods that supply all the macro and micro nutrients our brains and bodies need.
The teenager farmer says this can be accomplished on as small or large a scale as is necessary, growing traditional and new crops, year round – and that the Grenadines can lead and be as green as St. Vincent. "If it can be imagined", he says, "it can be achieved. Conceive it. Believe it. Achieve it". While he is off-island, Connell says his younger brother, Che Connell, will carry the baton, with agriculture associate, Danja Brown, working in parallel. Che is still a student at the St. Joseph's Convent, Marriaqua, a progressive Catholic secondary school headed by Principal, Sister Jacinta Wallace who hails from Bequia. Sister Jacinta's father, Carlisle Wallace, an education pioneer, was, from 1970 to 1995, the principal of the Paget Farm Government School in Bequia. He also taught at the Kingstown Anglican School and, in 1969 /1970, in Mayreau.
The Grenadines agricultural project highlights the fact that fresh fruit and vegetables are a basic requirement for the sustaining of a healthy body and that tourism is the largest source of any income stream in the Grenadines, yet fruit and vegetables for consumption by both locals and tourists are not sourced in the Grenadines. That, Connell says, is "socio-economic insanity". It's "food-sovereignty foolish". It's bad enough that we depend on an exogenous, foreign source, a foreigner – the tourist – for income, but we are also depending on an exogenous source – i.e, other countries and even so-called "mainland" St. Vincent – importing fruit and vegetables to feed oneself and the visitor in the Grenadines. That, he suggests, is a preposterous, poverty-inducing practice. It's preposterous. It's socio-economic insanity.
The Grenadines Going Green is a well-oiled community and team effort. A lady farmer on the Leeward side, Cordellia Simmons, helped grow some of the plants. Carter David, aka, "Red Dog", a leading auto-body repair specialist, another knowledgeable contributor, sourced the dark red plumose plants. Cauldric "Toops" Grant, another experienced farmer, taught the young Connell a lesson or three in farming. The venerable and veteran Captain "Gussie" Deroache of Union Island is investing his resources by shipping, free-of-cost, the plants to the Grenadines. Captain Deroache has transported, as well, containers of CRFH2O, a proprietary and new locally-organic fertilised water, a local brand of plant food for the Grenadines soil, produced by Cherio Farms specifically for the new Grenadines farmers and their plants and new crops.
Che Connell, still in his teens and in the final stage of secondary school, says the Cherio Farms project is especially aimed at the youth of the Grenadines. While distributing plants in Mayreau in January, Che met another lad, not yet ten years old, who showed initiative by confidently asking for several plants which he spotted on the specifically-designed Cherio Farms plant-transport vehicle. The lad is now the youngest and newest budding farmer in Mayreau. When this pre-teen planter has proven himself responsible and shows continued passion in his own progress, he will be taught how to farm, in Mayreau, using a mini 30-hole hydroponics system, a smaller version of a system which the younger Connell now successfully operates in St. Vincent. Continued distribution of plants in Mayreau and the rest of the Grenadines and monitoring of their growth will be carried out over the next eighteen months.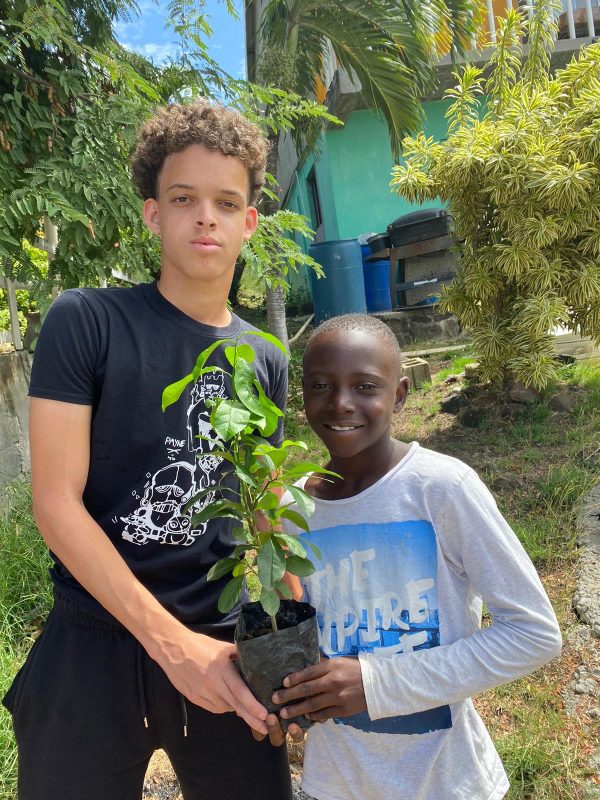 The Grenadines Going Green project, encourages adults as well, in the Grenadines, and seeks to empower all residents in these traditional "dry weather' and "hard areas" to become farmers of wealth and to effect a new, wet, well-watered, greener, community-made, mini climate in Mayreau.
The project seeks to reach the most southerly of the SVG grenadines, Union Island, in a matter of weeks.
This is not all, says Cherio Farm management, just part of the larger vision of creating a renewed community and culture, a reconstructed, reinvigorated Vincentian mindset towards farming before 2030. "We are also continuing to increasingly tap into the experience and vast knowledge of outstanding farmers whose work I have observed up close such as Ms Nester Billingy. Then there are those farmers I have been told about who have long and distinguished careers in the administration and business of agriculture such as Philmore Isaacs, who is a former Chief Agricultural officer, or those unafraid to successfully experiment with alternative ways of farming like Lennox and Joy Lampkin. I've been told of the success of farming mavericks Birdy John, Freddie Olliverre and Bigger Bigs. On another level is Farmer Val, a phenomenon in farming. He is an amputee, yet he cultivates his land on crutches and one leg and is more productive than thousands of young men half his age who have two legs. There are many others, who are not farmers, like Erica McIntosh, who can be regarded as the cream of the crop in adding value to many farmers' harvest with her Erica's Country Style brand of products. For decades Erica McIntosh worked with farmers purchasing a variety of produce such as peppers and sorrel and ginger. I'd like to access inside knowledge in farming from these persons and many others, seeking their indispensable, value-laden advice and insight born of years of extremely-hard-earned work experience, set-backs, obstacles, "failures" and successes. My research has revealed that agriculture was once the main driver of the SVG economy, making millions for many farmers. SVG once stood, globally, among the most respected – because of agriculture. This proud and highly-prized identity was ours, it once existed in SVG with bananas, with arrowroot, with the production of milk, with the production of the world's finest cotton which we at Cherio farms will also look at again. Agriculture, with value added again, will be once more the socio-economic source of our "oil" in St. Vincent AND the Grenadines. Whether tourists come or not, we thrive. Why? Because we easily and successfully first feed ourselves and have surplus with which to trade".
"It's not rocket science. It's simple calculus with a formula based on common sense. Seeds must be prepared and propagated. Crops must be planned out and properly planted without chemicals and nurtured with the implementation and observation of agricultural best practices. We use low-cost, cutting-edge technology and ancient common sense. Praedial larceny must be policed and prevented. This is how one cultivates an advanced culture. It pays huge dividends to make agriculture an economic, cultural and security priority. Sustainable agriculture practiced by everyone learning more everyday makes a nation healthy and wealthy in every way."