Keilrick Frankyln of 'Franklyn Designs and Printing' recently sat down with ANN for an interview where he shared with us just how his passion for creativity led him into the world of entrepreneurship.
Franklyn Designs does printing on shirts, cups, plaques, signs, business cards, and more.
First, a bit of background on the owner and operator of Franklyn Designs. He is from Rose Hall, attended the Troumaca Ontario secondary school, and went on to further his studies at the Saint Vincent and the grenadines community college. Keilrick is now a member of the Royal St. Vincent and the Grenadines Police Force.
According to Keilrick his passion for creativity as well as his strong business background influenced his decision to start a business of his own.
'I decided to venture in this type of business because of my passion for creativity and fashion. I have a strong business background and a strong designing background also. I currently have a few public clothing lines; imperium black nation (IBN), Make money moves (MMM), Streeks and "K.L.A.S.S" which means keep low key and seek success. These ideas and more allowed me to pursue this particular field in business.'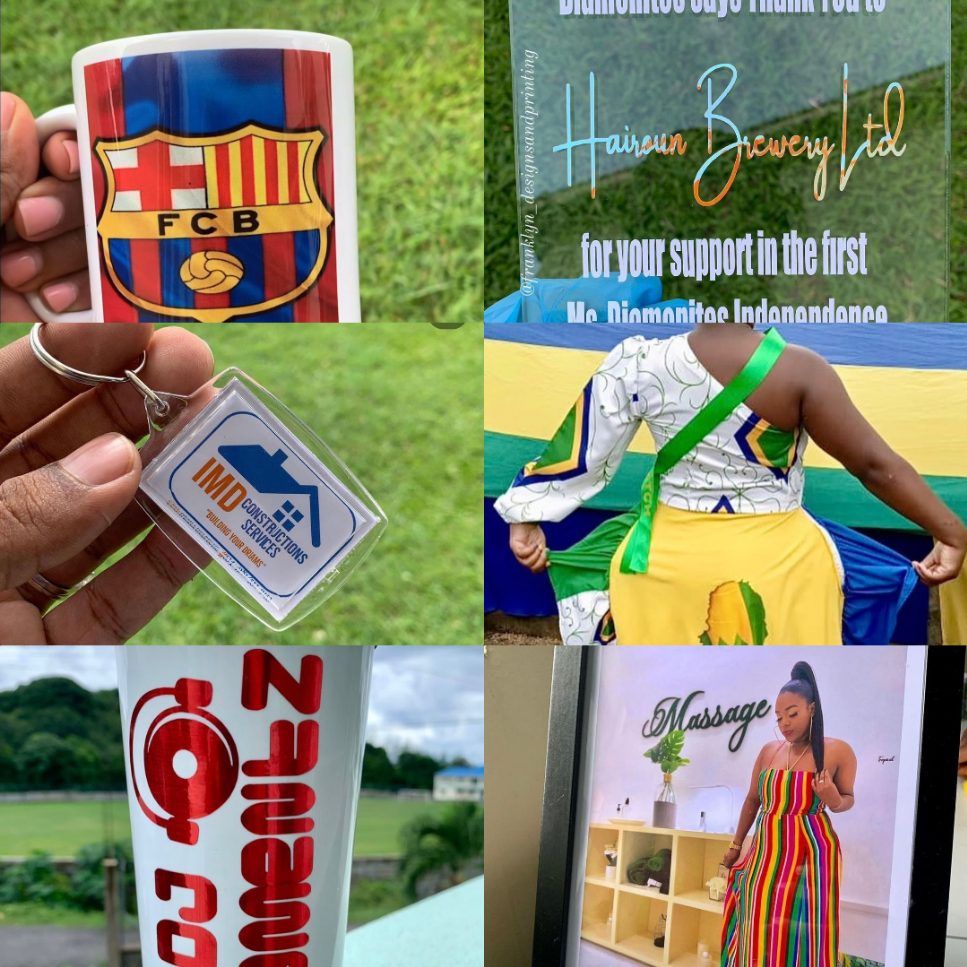 Keilrick also credits his ability to operate his business successfully to his time running a non profit organization for years known as ULEDO; united legacy empowered development organization. He said the skills learned from this experience have helped him to be more comfortable in his position as boss of his own business.
Although he is following his passion for design by operating this business, as is the case with the operation of any business, it has not always been a smooth ride. But he says his discipline as well as the support of his wife have helped him through to the rough patches of running his own business while being employed full time as an officer of the RSVGPF.
'As an officer, I must say it is not easy but it requires discipline and dedication. I am not much of a party person, nor do I drink or smoke so I use those opportunities and invest my time in business. My wife also plays a heavy role in helping with managing in my absence. Additionally I have two dedicated workers that put their best foot forward in getting any job done in FDP'
Keilrick says the things he enjoys most about being his own boss are 'the autonomy, independence and most importantly the ability to satisfy my customers, that to me is more rewarding feeling'.
The owner and operator of Franklyn Designs and Printing said that he defines success as a 'constant progression', emphasizing the importance of learning from past experiences.
'Success to me is defined as constant progression, and moving from one level to the next. The ability to learn from previous experiences and make better decisions each time you excel is successful. I always believe that discipline beats motivation because motivation can be temporary but discipline requires dedication no matter how discouraged you are.'
The ability to see opportunities where it may seem impossible, having the vision to accomplish any task, highly ambitious and discipline, and having the ability to persevere no matter what are essential qualities that any entrepreneur should have, according to Keilrick .
In issuing advice to any younger folks who may be interested in delving into the world of business themselves, he urged them to never give up, and to not be discouraged from their passions by naysayers. Keilrick says that the sky's the limit and anything is possible.
When asked where he sees Franklyn Designs and Printing going in the future, Keilrick said he envisions the business having several physical storefronts as well as doing charitable work.
'I see Franklyn designs and printing with several stores and expansion of different varieties of goods and services offered, we also see ourselves giving back to schools and non profit organizations in communities throughout SVG'
Anyone interested in reaching Franklyn Designs and Printing can do so online via their instagram @Franklyn_designsandprinting.