St. Augustine, Trinidad & Tobago W.I. – March 24th, 2023. Vincentians are being
encouraged to increase their understanding of La Soufriere volcano and to prepare for any future unrest scenarios.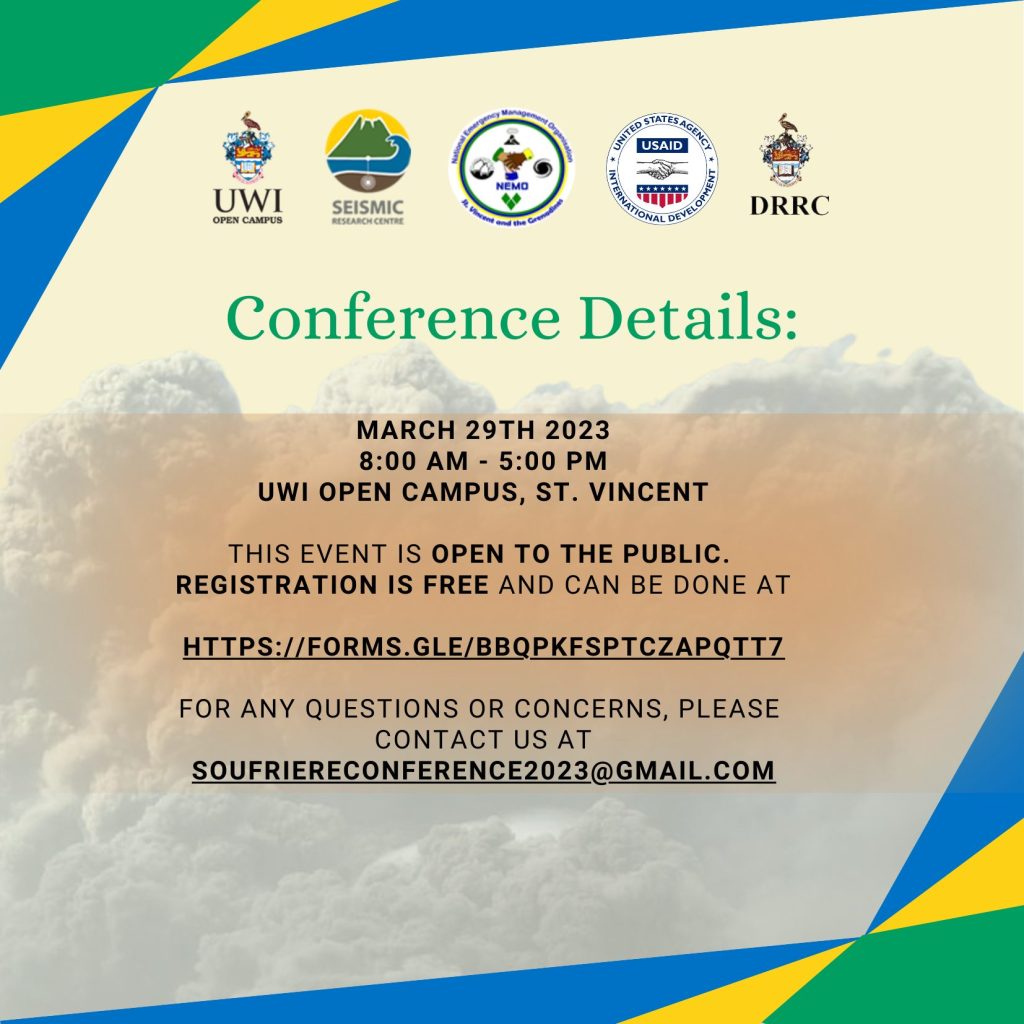 The call has come from conveners of the upcoming country conference happening on March 29th at The UWI Open Campus, Kingstown. The UWI Seismic Research Centre (UWI-SRC) in partnership with The University of the West Indies (UWI) Open Campus, St. Vincent and the Grenadines and the National Emergency Management Organisation (NEMO) will showcase work and research based on the theme: The 2020-21 eruption of La Soufrière Volcano, St. Vincent.
Prime Minister of St. Vincent and the Grenadines, Dr. The Honourable Ralph Gonsalves will deliver the feature address at the opening ceremony followed by presentations from local,regional, and international researchers. The aim of the conference is to highlight research that
has been or is being undertaken on La Soufrière Volcano with particular focus on the eruption that occurred between December 27, 2020 and April 22, 2021. It will provide a forum for regional and international scientific researchers and disaster response stakeholders to meet
and discuss the state of knowledge regarding Caribbean volcanism and gaps in knowledge that still exist while engaging with members of the public on these topics. The conference closes with a field excursion to view the impacts of the eruption on various areas on the island.
Professor of Geology at the UWI-SRC and Chair of the Conference Committee, Dr. Richard Robertson, hopes that all interested members of the public will attend this free event either in person or virtually. "The workings of the volcano and the response mechanisms to any unrest should be of concern to persons living on island," stated Prof. Robertson. "We look forward to full
public participation so that Vincentians can better understand and be prepared for any event," added Robertson
Director of NEMO, Ms Michelle Forbes noted that "The management of the eruption resulted in
many lessons being learnt and this conference allows for opportunities for discussion and sharing
with both researchers and members of the public.".
Director of the UWI-SRC, Dr. Erouscilla Joseph, added "We are pleased that this conference will
showcase some of the new knowledge that has emerged since the eruption to help improve our
understanding of eruptive transitions at volcanoes."
The Open Campus. St. Vincent and the Grenadines notes that this conference will add significantly to existing community knowledge and strengthen over time, the overall capacity of residents and
the nation to respond effectively to future eruptions of La Soufrière.
La Soufriere volcano began erupting effusively in December 2020 with at least thirty-one explosive events recorded between April 9-22.