The Young Democrats, the youth arm of the New Democratic Party (NDP), has honoured 21 Vincentian youth, declaring them "youth heroes" for their outstanding contribution to St. Vincent and the Grenadines (SVG).
The youth, who represented a range of backgrounds, interest and political persuasions, were recognised as The Young Democrats held its symposium and youth award ceremony on March 31st, 2023, at the Sir James Mitchell Auditorium, Democrat House, the party's headquarters, in Kingstown.
The recipients of the Youth Hero Awards are:
Ashanti Richards — Perseverance
Emanuel Quashie — Excellence through adversity
Aria Laidlow-Ferdinand — Political activism
Kemara Brackin — Artistic Creativity
Omoro "Omo Hefner" Harrington — Social media creativity
Shandel Samuel — Outstanding contribution to football in SVG
Eric George — Excellence in music
Jeshua Bardoo — Social inclusion & mental health advocacy
La-Quinta Peniston — Environmental advocacy
Ukisha Browne — Service to the church
Aaliyah Anderson — Excellent performance in sports (netball, football, track & field, field events)
Keo Davis- Excellent performance in sports (track & field)
Dexroy Creese — Excellent performance in sports (swimming; Paralympics)
Munro Forde — Community development
Carlisle Richards — Creative entrepreneurship
Jahaziel Bute — Creative entrepreneurship
Maxwell Sayers – Creative entrepreneurship
Derron "Magikal" Rouse — Excellent contribution to culture
Zavique "Caspa G" Morris — Excellent contribution to culture
Roleza Samuel — Spirit of Hairouna
Deandre Charles — Inspiration to youth
Five of the awardees are from the Grenadine islands of Bequia, Union Island and Mayreau, while the other 16 live in St. Vincent. Awardees were selected based on recommendations from the public in response to a flyer posted on the NDP Young Democrats' Facebook page, asking, "Who is your youth hero?"
Members of the NDP Young Democrats from the various constituencies also nominated awardees.

All of the awardees were given plaques, except for the cultural artistes, who received cash donations towards their studio production fee for the upcoming carnival season. Awards were presented by Young Democrats, members of the Central Committee of the NDP, the featured speakers and donors who sponsored specific awards.
The symposium and youth award ceremony formed part of the Young Democrats' heritage month activities in March, under the theme "March Movements: Heritage and Heroes". The March 31 event, held under the theme "Embracing Our History: Building on Our Culture", was also a dialogue on the history, heritage and culture of SVG.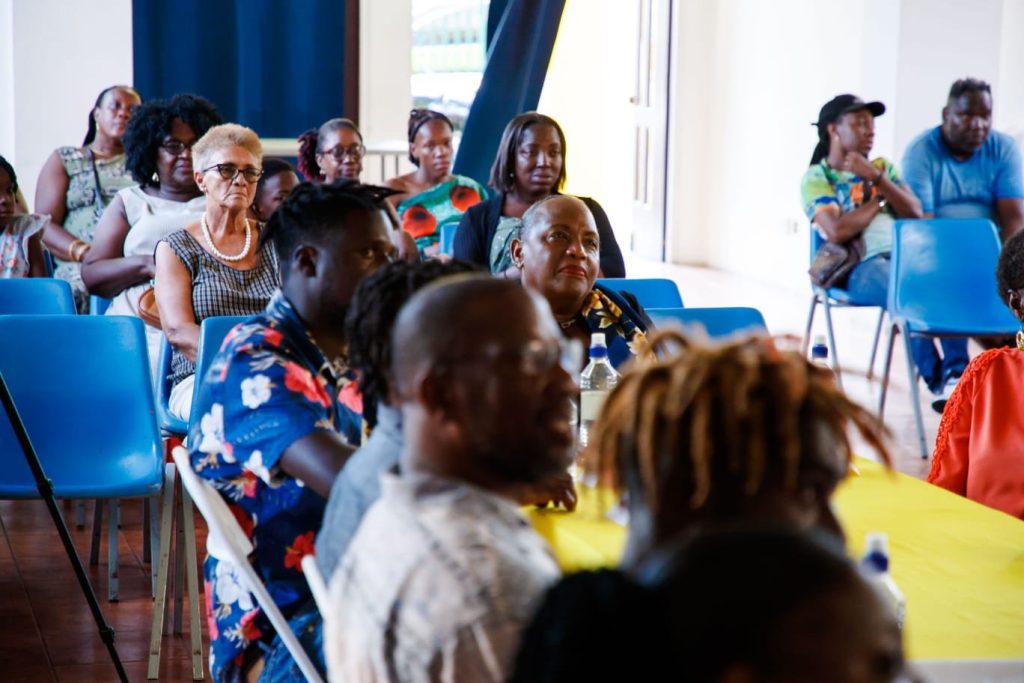 It aimed to bridge the gap among generations on traditions and knowledge of SVG that are critical to the nation's identity and the continuance of cultural practices.
The Young Democrats gave tangible support to the youngest youth hero, 13-year-old Carlisle Richards, owner of Lavish Shoe Polish, by purchasing 100 tins of shoe polish, which will be donated to schools across SVG.
The youth group also purchased 200 corndogs from creative entrepreneurship awardee Jahaziel Bute and served them as part of the refreshments at the event.
The featured performer was Eric George, a past student of the School For Children With Special Needs who is diagnosed with attention deficit hyperactive disorder and autism. George, who received the "Excellence In Music" award, thrilled the audience with his rendition of "Thinking Out Loud" by Ed Sheeran. George has performed numerous times at his former school and at local shows.
Meanwhile, in his remarks, Rudi Daniel, president of the SVG National Paralympic Committee, said, "We strive to make a significant contribution to paralympic sports in SVG by creating awareness, supporting athletes and advocating for inclusion and accessibility in sports."
He noted that Youth Hero Dexroy Creese made history as the first Paralympian to represent SVG, by participating in the games held in Tokyo 2021.
The featured speakers at the symposium were Nisha Hope, an English and theatre arts teacher and Dr. Adrian Fraser, a historian.

Hope, who is CEO of FOCUS Entertainment, encouraged the audience to work on their destiny in small steps. She offered a few tips, including self-evaluation through reflection and introspection, journaling, practising mindfulness and self-care, noting that it is not selfish to budget alone time to take care of oneself.

Hope, encouraged the youth to make a difference, saying:
"Dear youth, dear Young Democrats, I implore you to think about your life and what you hope to accomplish in the future. The only time to make change and to get out of a rut is now, and I echo the sentiments of the late Nelson Mandela: 'Sometimes it falls upon a generation to be great. You be that great generation'. Let your greatness blossom."

On the other hand, Fraser spoke mainly on historical, economic, and social events in SVG. He distinguished between "a place with slaves" and "a slave society" and explained the relationship between slavery, the sugar industry, planters and landmarks, which essentially explains why SVG was a slave society and not just a place with slaves.
He advocated for reparation and encouraged the audience to call for Balliceaux to become a national park or a national museum. Fraser spoke about the way history was taught in schools up to 10 years ago, including the erroneous narrative that indigenous Vincentians were cannibals.
The Vincentian historian also called for the distribution of national awards annually to recognise outstanding Vincentians while they are alive. He complimented the Young Democrats for giving the youth hero awards to young people in March.

"The National Heroes Day, from the very beginning, I had some concerns about it. Not many people could meet the criteria for being a national hero besides they have to be dead …" Fraser said.
"It is my view, however, that it should have been part of a package that included a system of national honours. What do you do with people in all walks of life who make valuable contributions to the development of the country and who ought to be recognised when they are alive?"

And, Vakeesha John, president of the NDP Young Democrats, who chaired the programme, encouraged leaders of SVG to pay attention to the youth.
John incorporated into her comments three experiences she had while making final preparations for the event: she forgot the trophies while on her way to the ceremony, reversed into a wall and was caught in a traffic jam.

"What I've come to realise is that our youth are our trophies, our gems, and we cannot and should not leave our youth behind. Secondly, if we keep going back instead of moving forward, utilising the skills and talents of our youth, we will crash as a nation. "And, finally, if we do not give our youth the recognition and focus they deserve, we will be stuck as a country with high crime rates, poverty and an unhealthy nation," John