They had 2 for 1 sales and a one-of-a-kind event!
On the 20th of April 2023, Greenhouse Café at Coconut Grove hosted the first 420 Cannabis Fair in St Vincent. 420 is an international cultural holiday celebrating the consumption and legalization of cannabis. Multiple stakeholders from all the areas of the cannabis industry in St Vincent were present: traditional farmers, various cultivation companies, the Medicinal Cannabis Authority, doctors, pharmacists and dispensary owners, fertilizer companies, the local analytical laboratory, artisans, and artists. Greenhouse Café is very thankful to their patrons and participants for being part of another historic page of the cannabis industry in St Vincent.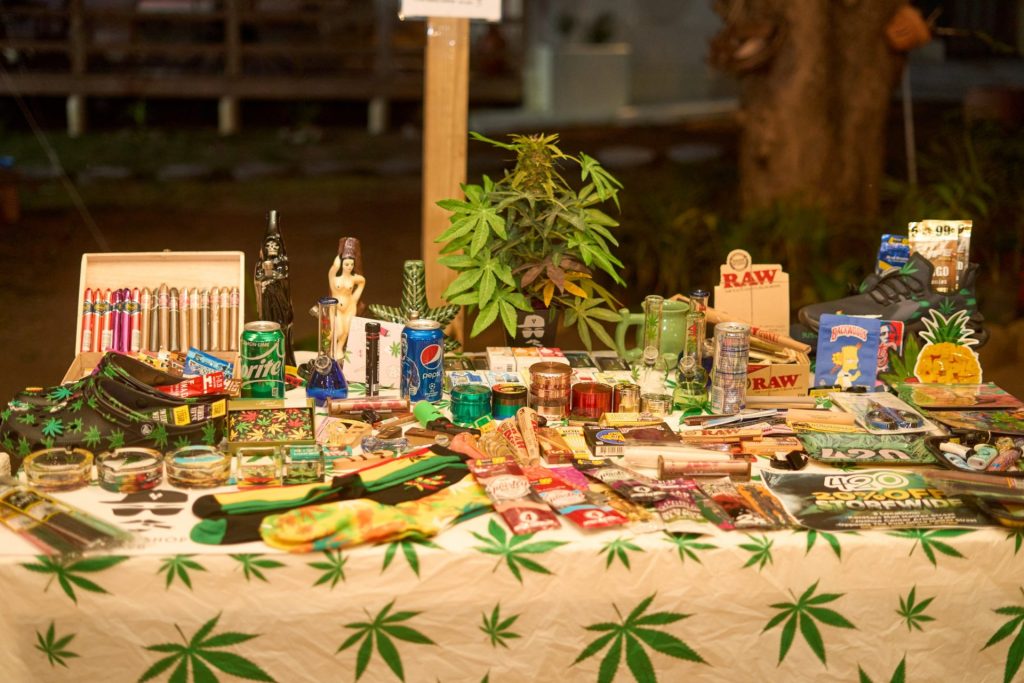 Notable guests were present, Junior Spirit Cottle, and different members of the St Vincent and the Grenadines Cannabis Revival Committee (SVGCRC), a traditional farmer committee. The Medicinal Cannabis Authority (MCA) was present to educate the public about the regulations surrounding the cannabis industry in St Vincent. Caribbean Gold Standards discussed with guests which services their analytical lab offers for the different stakeholders. Calvert Jones blessed us with 2 cannabis-related paintings which embellished Greenhouse Café. Smoke Shop showcased their cannabis paraphernalia and various accessories. CaraCann joined the festivities after opening, that same day, their own Consumption Lounge in Belmont; they showcased their new cannabis products and fertilizers. CannaSVG introduced their new brand of product, Summus, to the public. Greenlava and Roy's Pharmacy shared a booth in which they presented their products and cannabis paraphernalia. Robert Ford represented Advanced Nutrients and showcased a broad range of fertilizers that can help you improve the quality of your cannabis. Wake and Bake 784 showcased various delicious desserts. Last but not least, Medicinal was present to showcase all their products which can also be purchased at Greenhouse Café.
St Vincent and the Grenadines passed the SVG Medicinal Cannabis Industry Act in 2018. In order to purchase medicinal cannabis, you must:
Qualify for at least one of the 20 medical conditions recognized by the Medicinal Cannabis Authority (MCA).
Book an appointment with a doctor that is authorized to prescribe medicinal cannabis
Your prescription will be issued via your doctor. The doctor will also give you a medical certificate and a temporary medicinal cannabis ID card. The cost of the consultation vary from one doctor to another.
Fill your prescription at an authorized dispensing pharmacy
Obtain your permanent medicinal cannabis ID card by visiting the Medicinal Cannabis Authority in Enhams. The cost of the permanent ID card is 20 XCD
Greenhouse Café opened May 6th 2022 at Coconut Grove on Canash beach, mainland. Greenhouse Café is the first cannabis consumption lounge in the country and in the region. Greenhouse Café organized monthly Cannabis Clinics where all the steps discussed above can be done at one convenient location. The MCA sends representatives who can prepare the Medicinal Cannabis ID card. A doctor is also present to do cannabis consultations. Products are available for purchase at their dispensary. Patients can also consume cannabis in the idealist décor of Greenhouse Café.
As part of their April celebrations, Greenhouse Café opened their second branch on Bequia at Plantation Hotel. Greenhouse Café Bequia is located at Plantation Hotel's spa and is open Wednesday, Thursday, Saturday and Sunday from 11-6 PM as well as Friday from 1-8 PM. A dispensary and consumption lounge area are available for you to be able to purchase and consume your products directly.
Greenhouse Café at Coconut Grove will be celebrating its 1 year anniversary May 7th, 2023. Join us to celebrate in style, once again, with a band, good food and some spicy specials on Medicinal's products! See you next week.