It's carnival at Digicel SVG as customers countdown the days until July 11 with the 'with their 2023 promotion "Fete with $50,000 in 50 days'" promotion..
This promotion gives would allow Vincentians across the country the chance to win a share of $50,000 every day from May 19 to July 14. Digicel prepaid customers, postpaid customers, Digicel+ home internet customersFor current Digicel customers, all they have to do is activate a Prime plan and pay their postpaid and/or Digicel+ bill in full; and even non-Digicel customers can get in on the action with a chance to win, simply by switching to Digicel. who switch to Digicel the opportunity to win their share of $50,000 every day from May 19th to July 14th.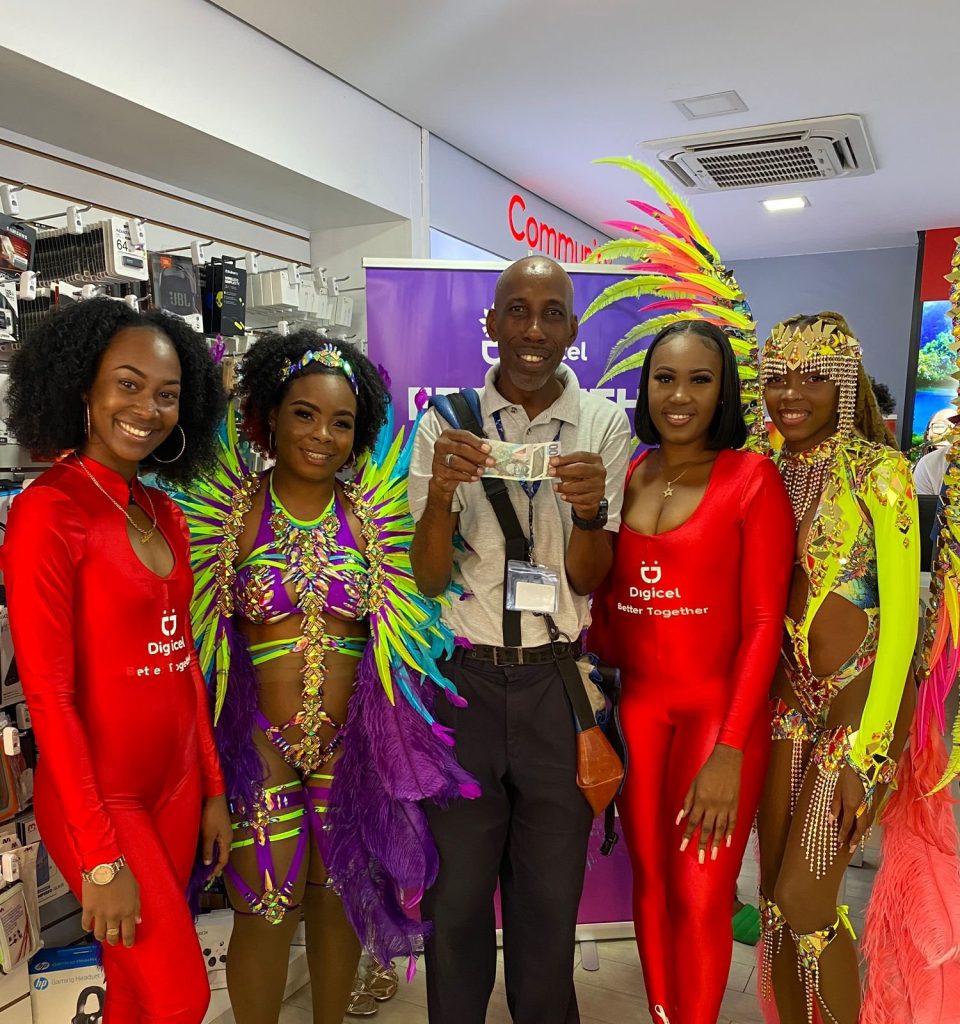 Senior Marketing Executive, Caricia Taylor said, stated that "This carnival season we are feting with our customers and giving them a chance to win big with their share of $50,000 in cash and prizes. From cold hard cash, to customers will get the chance to win fete tickets to the hottest events for Vincy Mas events, discounts on costumes, free costumes and and free Ttemperature Monday Jam packages, we're giving our customers MORE!."
Moreover, the team would be visiting various communities throughout the carnival season to build the vibes, interact with customers and give customers the opportunity to win MORE rewards.
This year also marks the return of Digicel's Temperature band, Aafter a two yearthree wo-yearss hiatus due to the COVID- 19 pandemic. Revellers in this band will be heating things up on the road on Carnival Monday, under the theme , Digicel's Temperature band will also be on the road for Carnival Monday with the returns theme '" Like Yuh Self"'. The band will have general, VIP and frontline sections, with four frontline options for women, including Fever, FireyFiery, Steamy and Rogue.
Taylor continued, "We are so excited to be back on the road again, so in the lead up to carnival, the Digicel team will be taking to the streets, visiting various communities throughout the season to build the vibes, interact with our customers and give them even more opportunities to win more rewards.
Taylor also mentioned that this year the band will have a general, VIP and frontline options. With the frontline having 4 options for the females to choose from including Fever, Fiery, steamy and Rogue. We're here to remind our customers that Digicel and Vincy is Better Together."
Digicel x Vincy, better together.