(Excerpts of Dr. Godwin Friday's Presentation at the Hope Rally Pt.1)
For Love of Country
God has blessed us with a beautiful country, with fertile land and sea. And we are smart, hardworking, and generous people. I love my country. Nobody loves St. Vincent and the Grenadines more than me! And I know you do too.
We all want to be able to have a good life here with a bright future for our children. I want the best for my country that I have served for most of my working life, and by the Grace of God, will serve for some time to come.
Like you, I am many things: son, husband, father, sports fan, churchgoer, community man. Mrs. Friday has been a tower of strength for me. As a father, I want to leave this country better for my children. As do you. I feel the children of this country are all my children.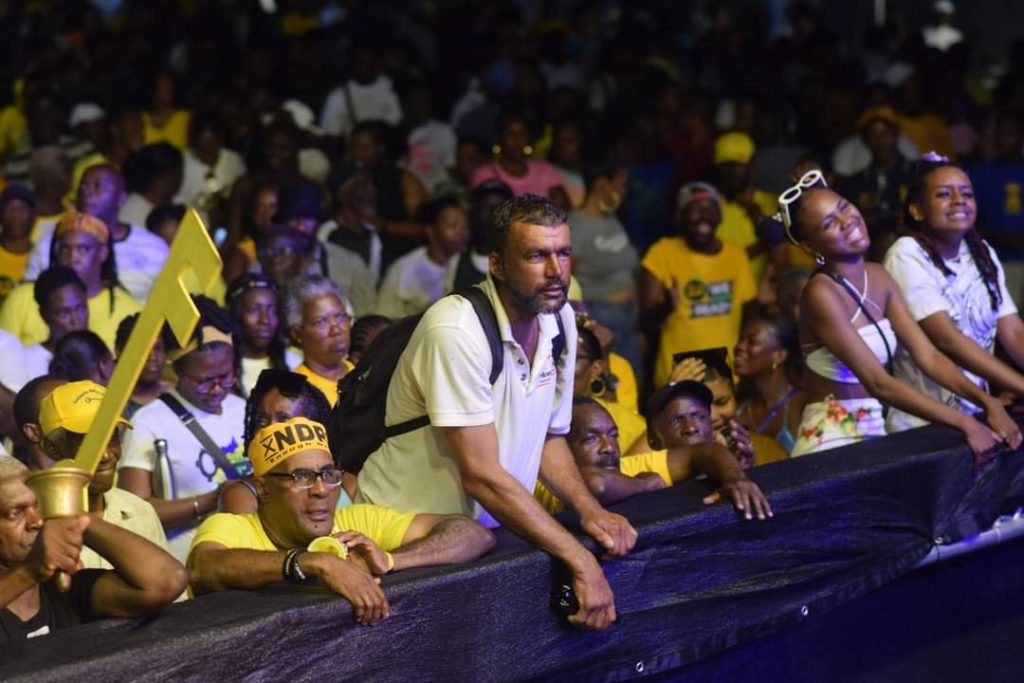 I am in politics because I want to build a country full of promise and energy that helps every Vincentian to meet their potential. Every day, I count my blessings for what we have been given by God as a people. We are truly blessed. But, it is up to us to use that blessing wisely.
Things are not right in SVG
We all know that things aren't right in St. Vincent and the Grenadines. Our country is broken and divided. We need a new direction that brings healing and hope. We are drifting at the mercy of one man- PM Gonsalves- who answers only to himself. Not to you. We live on his plantation and therefore must serve him, and not the other way around!
Crime and Violence
Violent gun-related crime is out of control. The streets run red with the blood of one gunshot victim after the other. Last year was a record year for killings, many by gunshot. This year there are already 17 killings; it seems like it will be worse.
People do not feel safe in their homes and in public. And all that Gonsalves and his ministers do is blame others for the worsening crime situation. Recently at a conference in Trinidad, he even blamed high maintenance, pretty women for young men committing crime! Is he serious? He can't be serious about dealing with the problem.
With them, it is always someone else's fault – judges, magistrates, lawyers, even preachers—but not the people running the country. They do not take responsibility. Well, if you don't take responsibility, you will do nothing about the problem. That is where we are now. And that is a failure of governance.
Health Care is a Disaster
Our health care system is a disaster. People are scared to go to the hospital. Despite the heroic efforts of doctors, nurses and other workers, the system continues to fail, in the most basic ways- shortage of medicine; you go abroad for treatment if you can afford it; and nurses are leaving.
Staying overnight at the hospital means you have to pack like you going camping. So that everyone can have access to basic health care, we must move forward with the National Health Insurance Service.
Political Victimization and the Vaccine Mandate Policy/Case
The Prime Minister and his government truly do not care about people. That is my firm belief. They care only about power for themselves, to use and abuse as they choose. To continue with them would mean more division, more hardship and more politics of spite and victimization.
Political choices should not mean political victimization. Vaccine mandate policy, appealing the case means more punishment. Ralph said the government would appeal to the Privy Council if the government loses again. How can he claim to love people and be so cruel and vindictive? Teachers, nurses, police officers with 15, 20, 25 years of service fear they will have no pension. To be nearing retirement and be in that situation is frightening.
Do you want to continue the punishment of public servants, teachers, and police officers? This is what will happen if ULP remains in power! The government appears to be pursuing a vendetta against the public sector workers. There is a political solution to this problem! I have told you that all affected workers will get their salaries, pensions and benefits restored. That is my solemn commitment to you, because it is the right and just thing to do.
Therefore, tonight I call on the Public Service Union, the Teachers Union, the Police Welfare Association, not just the leadership, but all members, to join with us in our mission to rescue our country. And bring back fairness, decency and togetherness.
The NDP is the only vehicle right now that can bring about that political change. I offer it to you. Let us use it together. We welcome you. Embrace it and let us work together for political change. Public servants do not be afraid about your job. If we work together, political change will come, and under my government– an NDP government, your job will be safe. I promise you that. It is not how you got your job but how you do your job. They may tell you otherwise to frighten you, but as usual they lie.
Young People
Young people, I have a special message for you. An important message. You are here tonight in great numbers. Thanks for coming. And I know…you come to see Farmer Nappy and Jah-Vinci and the other the wonderful artistes who are performing tonight. And that's cool! Yes, and to hear me. But, along with the lyrics and the music that you will take home in your heart and head, I want you to also take home this bit of wisdom from me: I want you to realize that you have the power to change things in this country. You have that power!