My Crown Of Curls has done it again! Local entrepreneur Ranique John has created an innovative and unique blend of Breadfruit, Coconut Milk, and Okra called her Diamond Collection to celebrate St. Vincent & The Grenadine's 44 years of Independence Celebration. My Crown Of Curls is committed to using plant-based formulas to help nourish, grow, and care for natural hair.
Breadfruit, which is a part of our national dish and loved by many, is packed with omega-3 and six fatty acids that help nourish hair follicles and give shiny, healthy hair. Research also shows that it helps with getting rid of dandruff. Okra helps moisturize the hair, frizz control reduces hair breakage, and its rich antioxidants promote growth. Coconut Milk helps to reduce split ends, reduce hair damage, and rejuvenate hair.
The Diamond Collection consists of three products: Leave In Conditioner, Moisturizing Styler, and a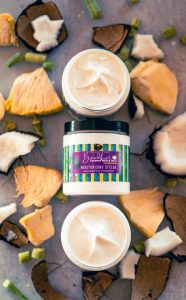 Reparative Hair Masque. 
This collection is a limited Edition. Only 44 bundles are available.
They can be purchased exclusively at the My Crown Of Curls Office, which is located in the Baynes Building on the middle floor. Opening Hours are 8:00 am to 4:30 Monday – Friday. 
Customers who have purchased the Diamond Collection so far are raving about how wonderful it is and how soft and moisturized it's making their hair.
"I am IN LOVE with the Diamond Collection."

-Joanna jack

"I bought the Reparative Hair Masque & it did my hair soooo good! I'm going to get all the others now!"

– Tyshanna friday
Don't miss out on your chance to own something uniquely Vincentian that will nourish, revitalize, and replenish your natural hair.
You can contact Ranique John at 1 (784) 5276379 to secure your very own collection of products that were handmade with love right here in St. Vincent and the Grenadines.