(BBC) Face masks are no longer mandatory on public transport in most of New Zealand as Covid-19 cases continue to drop.
From midnight on Wednesday, they are required only in Auckland, the heart of a recent outbreak, and on planes.
The rest of New Zealand lifted all pandemic restrictions on Monday.
New Zealand was widely praised for its swift response to Covid-19 and everyday life largely went back to normal in June, but the virus reappeared in Auckland in August.
The country's biggest city went back into lockdown, temporarily, as other curbs were re-imposed elsewhere.
New Zealand has now recorded 1,468 confirmed Covid-19 cases and 25 deaths.
Why have mask rules changed?
Everywhere except Auckland returned to level one – the lowest of a four-tier alert system – on Monday after seven days of no Covid-19 community cases.
This means life almost as normal – no more social distancing or caps on gatherings such as weddings or sporting events. Everyone can return to work without restriction and wearing a mask is no longer compulsory on public transport.
The government says face coverings aren't necessary for the general public when there is no evidence of community transmission.
But it is still encouraging people to wear masks on public transport. In Auckland, now at level two, they are still compulsory.
Also, passengers on planes flying to, from and via Auckland – as well as on all Air New Zealand flights – are still required to wear masks.
On Wednesday, authorities reported three new community cases that are not linked to the Auckland cluster. They are connected to a recent chartered flight from Christchurch to Auckland.
Why have masks caused a stir?
Face masks have become one of the big dividers of the pandemic.
Long embraced in many Asian countries, they've been resisted by some citizens in the US, Europe and at times New Zealand too.
It only became mandatory four weeks ago to wear facial coverings on public transport at alert level two and above.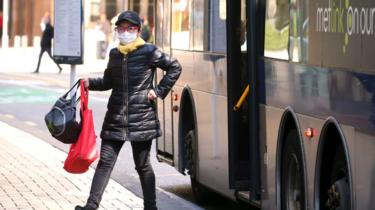 Now as most people return to the old normal, top epidemiologists have raised concerns about the dropping of masks.
We've argued to "retain mask use in specific situations like public transport and residential care facilities" until there is no community transmission for around four weeks and it's clear the virus has been eradicated again, said Michael Baker, professor of public health at the University of Otago.
But the epidemiologist, who advises the government on its Covid-19 response, acknowledges the challenge masks pose.
"It gets harder to sustain interest in mask use when people think there's no virus any more. We don't have masks ingrained in our culture. And I think people have not got used to them at any point," he told the BBC.
On Monday New Zealand Prime Minister Jacinda Ardern, who has championed social distancing and masks, apologised over a maskless selfie with supporters last week, admitting she made a mistake.