The week of February 28th to March 4th had over two thousand (2000) Vincentians benefitting from employment paid for by the Spanish Agency for International Development (AECID). Following the April 9th 2021 eruption of the La Soufriere volcano, UNDP launched its Crisis Response and Recovery Program for St. Vincent. The program had three components:
1. Household and Building Damage Assessment (HBDA) for quick data driven and evidence based decision making processes.
2. Cleaning of volcanic ash, clearing debris and supporting economic reactivation in the most affected areas while providing emergency employment.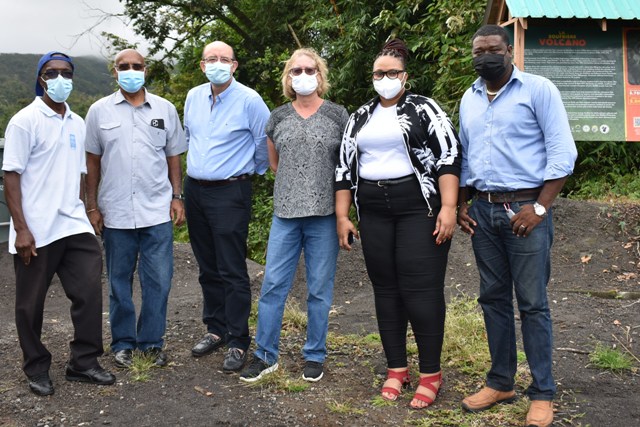 3. Restoration and regeneration of forestry, watersheds and protected areas damaged by the eruption.
Component 2 (clearing debris and supporting economic reactivation) was executed in two phases. Phase one, funded and implemented by UNDP, ran from May to August 2021 while phase two was a partnership between UNDP and the Spanish Government, with Spain contributing some EC$1.1 million. The execution of phase two began on February 28, 2022 after much delay.
In the execution of component two, UNDP procured a quantity of equipment and Personal Protective Equipment (PPE) to ensure workers had adequate protection and that they had the necessary tools to effect the safe removal of volcanic ash. Transfer of funds to St. Vincent for the payment of workers followed UNDP basic Standard Agreement with the government. Hiring and payment of workers were done by BRAGSA, the government's executing agency, who was charged with the ash removal duty island wide.
The UNDP Resident Representative for Barbados and the Eastern Caribbean, Mrs. Valarie Cliff and the Spanish Ambassador Fernando Nogales visited St. Vincent on November 21st ,2021 to see firsthand the devastation caused by the eruption of La Soufriere and to view progress on the ash removal. They were taken on a tour of North Windward and expressed satisfaction with the work done by BRAGSA