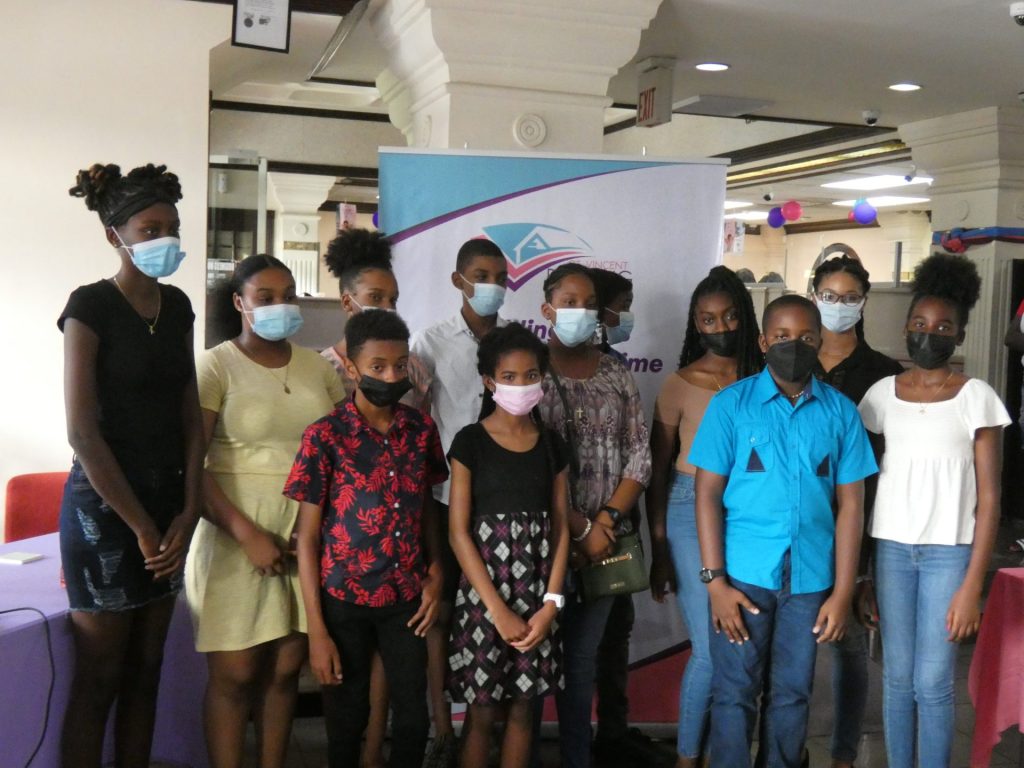 Three students who performed outstandingly in the 2022 CPEA were awarded scholarships from the St. Vincent Building and Loan Association (SVBLA), during a ceremony at the Association's headquarters, Kingstown, on Tuesday, 2nd August.
The scholarship recipients were: Enna Belle Mc Master and Amaia Wilkinson who will attend the St. Vincent Girls' High School, and Lucah Melville who will enter the St. Vincent Grammar School.
Mc Master and Melville along with current scholarship holders were presented with cheques and other goodies.
In welcoming the gathering, Ava Weekes, Customer Service Manager at SVBLA shared that going into 2022, the Association has "twenty-four students on the Scholarship role, including four who will graduate from the SVG Community College, and we will be adding three students for 2022."
She congratulated the students for their exceptional performance in the CPEA examination, expressed hope that they would feel honoured to be holders of the St. Vincent Building and Loan Association Scholarship, and urged them to "continue to work hard and strive for excellence both in their academic performance and conduct as they embark on a new journey."
Feature speaker Lester Iroha – Producer, Songwriter, Vocalist, Artiste Manager and Promoter – joined in congratulating the scholarships recipients and commended the SVBLA for giving back in a most generous and productive manner, and suggested that in these trying and challenging economic times, the assistance would be most appreciated.
Directing his attention to the scholarship recipients and other students present, he encouraged then to dream big and embrace failure on their path to success.
"Too often when you have big dreams and aspirations people often talk you down from them or try to derail you due to their personal lack of vision and foresight or even lack of faith in you and your abilities. You should never invite or allow any of that negativity to influence your future or path. Instead use it as fuel to shine and excel. Dreams are important and powerful," Iroha stated.
"We need to learn from our failures and not quit because of them," Iroha posited.
Angelique Fitzpatrick received her SVBLA scholarship in 2008. She attended the St. Vincent Girls' High School and the St. Vincent and the Grenadines Community College. Currently she is studying medicine at the Richmond Gabriel University.
She was on hand to offer words of encouragement and reminisced about the good times she and other recipients had as SVBLA scholarship holders. She emphasized being a SVBLA scholarship holder is more than just receiving funding each year.
"The SVBLA team cares about the students and offers advice and pep talks where necessary," Fitzpatrick said.
Candice Sealey, Marketing Officer at SVGBLA congratulated the students, their parents, guardians, family members, friends and relatives for doing a great job of nurturing, supporting, and motivating the students.