32 year old police officer Brenslee Bobb is the owner and operator of not one, not two, but three businesses here in St. Vincent and the Grenadines, and is a testament to where investing in yourself and your business can take you.
In an interview with ANN, Brenslee shared with us his motivation for starting a business of his own.
'I started my entrepreneurial endeavors as a way to generate the additional income necessary to achieve financial freedom and build generational wealth, while also providing a more comfortable life for my family.'
Bobb's observation of the world around him led him to notice that there was a gap in the automotive rental market that needed to be filled. It was this observation coupled with advice from a coworker that inspired the jump into the world of entrepreneurship.
'The decision to start a vehicle rental business was partly based on advice I received from a co-worker while stationed at the Traffic Branch of the RSVGPF. I also saw the high demand for vehicle rentals and noticed that there was space within this market to thrive, as the demand appeared to be significantly higher than the supply. This industry was also convenient for me, since I could manage the operations remotely and it did not conflict with my primary job as a police officer.'
The first vehicle in his rental fleet was purchased in 2019, and it was from there that he started his investment in a financially secure future, an investment that required him to pay close attention to market demands, demands he was wise enough and capable enough to meet.
'I bought my first vehicle (a Nissan Dualis) in November 2019. Following this, I made it a priority to reinvest large portions of my earnings towards the expansion of my fleet, and I purchased my second vehicle in April 2020. From there on, I have continued to expand my fleet to better meet increasing market demands and customer expectations. Presently, the rental business which I started is officially registered as Bargain Auto Rentals and operates a fleet of ten vehicles.'
Brenslee says there are plans in the works to expand his fleet of rentals even further as well as to establish a web portal to facilitate online rental bookings.
He then proceeded to explain just how he decided to branch out and start two more businesses.
'Since my initial venture into the rental business, I have started two complimentary businesses in February 2022: Bargain Auto Wash and a parking lot. All three businesses are operated at the same location: at Paul's Avenue, in the parking lot adjacent to the main offices of the St. Vincent Electricity Services Limited (Vinlec), and are collectively known as "Bargain Auto Services".'
His car wash business, according to him, came about due to how meticulous he is when it comes to the cleanliness of his rentals, which then gave him the idea to offer this service to others in the country, as there are those that want that same pristine clean for their vehicles.
'My motivation for starting car wash stemmed from my desire to deliver a high-quality service to my customers. When I commenced operation of the rental service, I personally ensured that each vehicle met my standard of cleanliness before handing it over to customers. This made me realize that there was an opportunity to extend this quality of service to the wider public, while simultaneously streamlining our operating procedures. After consolidating our operations at a single location, we were better able to make this a reality, and the offering of paid parking was an obvious next step in our business offerings.'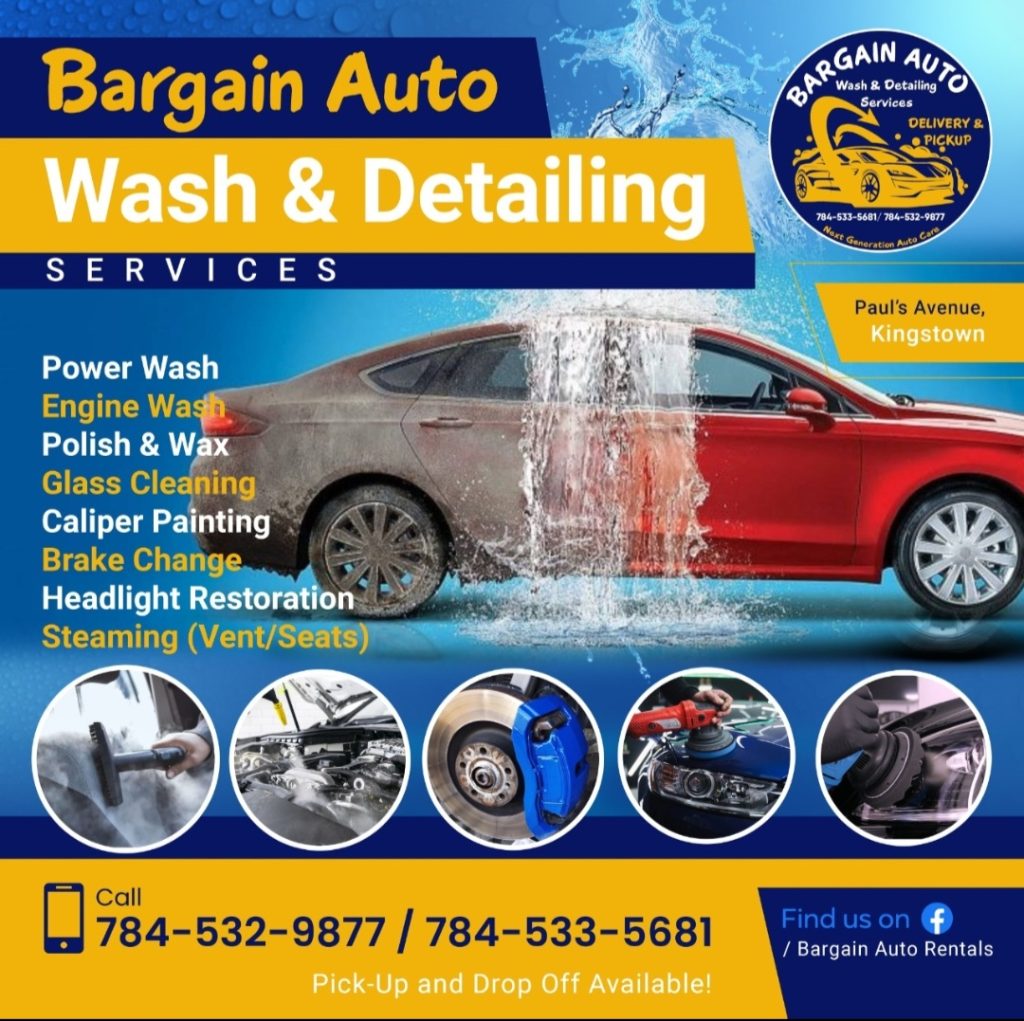 Brenslee noted that operating his businesses throughout the years has not been without his fair share of challenges. One challenge in particular was mentioned by the 32 year old entrepreneur, that being the difficulties he faced when it came to dealing with insurance companies. He spoke of the hesitance of these companies to insure rentals initially and how he got past this hurdle in his entrepreneurial journey.
'As with most business ventures, the process of starting and operating the business has not been without its challenges. Initially, I faced resistance from insurance companies, some of which were unwilling to insure rental vehicles.'
Another challenge mentioned by Bobb was that of convenient parking, one which he has overcome. He emphasised the importance of innovation and flexibility in meeting these various adversities head on.
'This was in addition to a lack of an appropriate parking space for the vehicles; one which was convenient for both the business and our customers. However, I found that maintaining our commitment to meeting customers' expectations through innovation and flexibility in the delivery of our services, has been an effective strategy in overcoming these challenges. At Bargain Auto Services, we believe that a satisfied customer is the best business strategy of all.'
The owner and operator of Bargain Auto Services did not hog all the credit for the success of the business for himself however, as he gave his employees the credit they deserve.
'The loyalty and dedication of my staff has also played a significant role in facilitating this flexibility. In my entrepreneurial endeavours one member of staff in particular – Christopher "Chris" Hinds – has demonstrated an exceptional level of commitment and dedication and, due to this, has since been promoted to a supervisory position.'
In his advice to persons with an interest in taking the dive into the world of entrepreneurship, he stressed that market research should be done first, emphasising its importance in the creation of a successful business.
'My advice to anyone looking to become an entrepreneur would be to conduct market research and identify gaps or room for improvement in the supply chain of existing markets, or opportunities to pioneer new markets altogether. As an entrepreneur you have to be willing to take risks, but market research is an important part of the process, which helps to manage those risks. This would prevent prospective entrepreneurs from entering oversaturated markets; or failing to stand out in, or add value to, an already competitive industry.'
Brenslee shared with us one thing, knowing what he knows now, that he would have changed about his entrepreneurial journey, despite the success he has had so far.
'While I would consider myself to be successful in my entrepreneurial endeavours – having moved from a small rental operation of one vehicle to a registered business operating a fleet of multiple vehicles, and venturing out into other service areas – there are things that I would have done differently if I had the knowledge I have today. For example, I would have chosen to invest more capital to do so earlier.'
The sense of pride and accomplishment that comes from owning his own business has been the most fulfilling aspect of entrepreneurship according to Bobb.
All three of Brenslee's businesses can be found on Google under the name "Bargain Auto World". He says they are in the process of updating this moniker to reflect the wide range of services, including: exterior and interior vehicle cleaning services, vehicle rentals, and paid parking services.
Bargain Auto Services, has an on-going promotion where any person who rents a vehicle for three days, starting on a Monday, receives one day free of cost. And, at the end of November, Bargain Auto Services will be calling one loyal customer to offer him/her a free one-day rental. To qualify as a loyal customer for this promotion, the person must have rented a vehicle for at least six days in any period of one month; and returned the vehicle on time, free of damage, and with the same level of petrol as when they received it.
Persons wishing to contact our Bargain Auto Services can do so using any one of the following contacts:
Telephone: (784) 496-1786
(784) 532-9877
Email: [email protected]
Facebook: Bargain Auto Rentals
Bargain Auto Wash Detailing services
Website: www.bargainrentals.tk